Wednesday, April 25, 2012
Hi everyone!
I hope you're having a great spring so far. I know I am! I've been biking to work once a week (loving it), working out with kettlebells pretty regulalry, and studying for my 4-years-in-the-making Pilates certification, too. Whew! I also just auditioned (with hubs) to be on the next season of my FAVE CBS show "The Amazing Race." (Time will tell on that one!) Things are busy as usual in SparkPeople land! And there are SO MANY MORE wonderful and exciting projects I'm working on with SparkPeople and some new partners that I can't wait to share more about in the near future. WEE!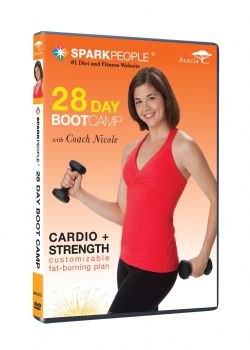 Anyway, I wanted to let you all know that for those who haven't yet purchased the
28 Day Boot Camp DVD
, now is a great time. Amazon.com is running another sale that just started yesterday. It's nearly half off suggested retail (save $8!) but
only through May 7
. Unfortunately, SparkPeople does not affect how retailers sell our DVD, if/when they'll put it on sale again, or how much it costs at any given time, so if you've been thinking about grabbing it, do it now! I promise you that the 28-day plan in the DVD is doable and will help you get some amazing results this spring.
Here is the link to purchase it from amazon.com
. For those who already bought it, thank you for supporting SparkPeople!
Oh and for those who might be wondering, SparkPeople will be running an official online Bootcamp Challenge in May (it will actually begin on April 29) that offers prizes for participants--just like we do every spring. Keep your eyes peeled on SparkPeople.com and dailySpark.com later this week for all the details about the Challenge (how to join, etc.).
Happy Spring! Thanks as always for all of your wonderful inspiration and support.
Coach Nicole