This weekend was my first trip back home since January. None of my family or friends had seen me in person since then; I had lost less than 10 pounds at that point. I was excited and nervous to see their reactions.
I pulled into my parents' driveway around 12:15am. Got off work at 1pm - so I made pretty good time (800 miles in 11hrs, 15min). I made a beeline for the restroom (hadn't 'powdered my nose' for 6 hours, LoL)
When I emerged, my mom was walking down the hallway. She gave me a huge 'I miss my babygirl' type of hug that I always get. Then she cupped my face in her hands and could only say, "Wowwww". It was so cute!
When I got up the next morning for my jog, my dad was at the computer. He got up for a hug, made a comment about me getting skinny. Then made sure to tell me that I better not get anorexic. Haha, Dad. This bod wasn't build for being a stick figure! I told him I had a goal weight that was in the middle of the healthy BMI range and he seemed satisfied with my response.
After my jog, I got ready to visit my old job, schmooze a little and show off ;) Everyone was so cute! A couple of them are my FB friends, so they told the others about my weight loss. They knew to expect it, but were so surprised when they saw me in person. Too funny!
I met up with an old high school friend for lunch at Chipotle (not the healthiest, but YUM!) He totally couldn't take his eyes off me - it was adorable! He was all nervous and such, haha. Here's the text he sent me after we parted ways: "Thanks again for having lunch Shelby! You looked great in the outfit you were wearing... And by great, I mean sexy!"
I met back up with my mom at home and we headed out to visit my grandparents (dad's folks). Gma was napping so Gpa went to wake her up. In the mean time, I had gone outside to pester one of the cats (Sadie secretly adores me; she just doesn't realize it yet after all these years). Gma came to the side door and just looked at me. It almost looked like she was going to cry. I am her angel, perfect in her eyes just the way I've always been, through my stages of cute kid, awkward teen, attitudinal pain in the booty, and now as a young woman. This day was different. She gripped my arms and stepped back so she could look at me. I wasn't just precious to her as her granddaughter. "Shelby, you're beautiful!" she exclaimed with a grin. This day, I was beautiful. Inside and out. The twinkle in her eye when she said that had me sold. I almost lost it.
That night, I met my best friend at her apartment so we could drive down to San Francisco to hit up our favorite burger place (If you're ever in San Fran, check out Burger Joint - dee-lish!) And of course, since it's just down the street from AT&T Park (home of my SF Giants), we had to do a lap around the ballpark. Here are a couple pics:
(cheesy pose under one of the plaques)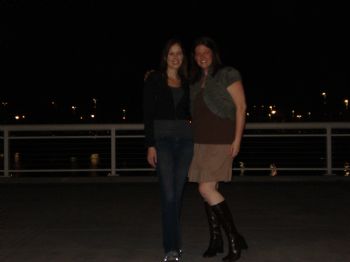 (McCovey Cove behind us)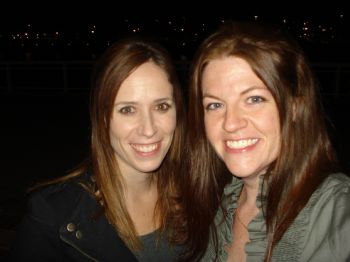 (with the lights of McCovey Cove in the background)
Saturday was my best friend's bridal shower. Dopey me left my camera in my purse the entire time - d'oh!! *forehead smack* But it was awesome. Here's a couple pics of my navy blue bridesmaid gown: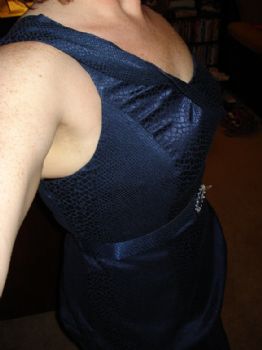 When my bestie had left the room, her future mother-in-law, grandmother-in-law and other members of the groom's family were discussing when they saw the two 'kids' together for the first time. I just sat there silently, taking in what they were saying, how they fell in love with her immediately and were already picturing the two of them getting married, LoL. Family, gotta love them!
But that was the moment where I felt like a mom. This was my little girl they were talking about. The girl I've known since I was 12 years old and in 7th grade. Only, she's not a little girl anymore. She's a 29 year old woman, gorgeous outside, incredibly amazing inside, with a heart for God and a waist I'd kill for. I've told her countless times she deserves only good things in her life. Her fiance is one of those good things.
Anyhoooooo, I do my weekly weigh-ins on Sunday morning. I stepped on my parents' scale. It read 187.6. That amounted to a 3.8 loss in one week. Normally, that would be exciting, but it kinda bummed me out. I have been sick for the past week or so, not working out too much and not eating the greatest. So it's water weight and/or muscle loss. I'll get back on track tomorrow since I'm finally feeling a little better.
The bestie and I met up late Sunday morning for some thrift store shopping. Mainly because she's having an outdoors at sunset wedding in June and we're stalking thrift stores for the clear/white Christmas lights to hang from trees and bushes (scored several bags and boxes of lights for less than $20 total). But that wasn't going to stop us from looking for clothes, haha.
Here's the swag I scored: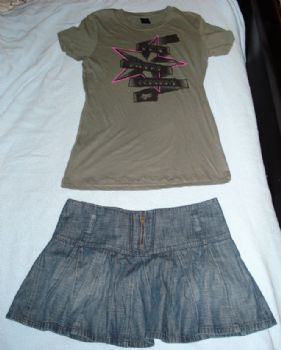 (denim mini skirt and Fox tee - $6 for both items. When I put this outfit on at the thrift store, my bestie was totally admiring my figure - commented that she could see all the hard was was paying off - too sweet)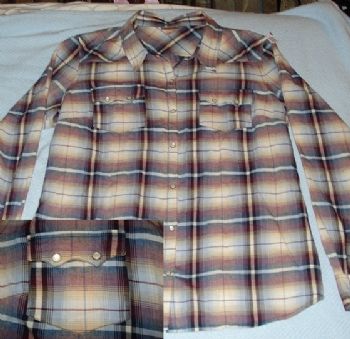 (Plaid button down for $4 - I love plaid shirts, I think it's the country girl in me)
($4 dress pants for work)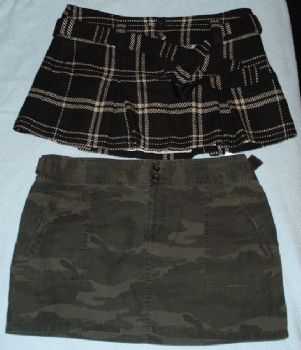 (Wool mini skirt from American Eagle - $5 and Camo mini skirt - $4)
We ended up at Chili's for lunch. Started with the chips, queso, salsa. I actually went for the healthy lunch. It was a grilled chicken sandwich with lettuce, tomato and a non-fat honey mustard dressing on a wheat bun, with steamed broccoli on the side (610 cal, 13g of fat). YUMMY!! Plus I went through about 4-5 glasses of water :)
We hit up the mall so the bestie could spend her Victoria's Secret gift cards that she received at her bridal shower. As we were meandering through the store, a gal asked if I wanted to get measured. Heck yes, I did! I always wanted to get my actual bra measurement, but was too embarrassed to go through the process. She asked if I wanted to go into a room or if I wanted to do it out on the sales floor. I said, "Hell, you can do it right here!" Totally unashamed. I've gone from 42C to 38C, which means, drumroll please - I can finally buy my bras at Victoria's Secret!! I won't because I'm cheap, but I could. Mwahaha...so that was exciting, LoL.
Sunday night, my younger brother came to the house for dinner. When he found I had lost almost 40 pounds, you should have seen his jaw drop! It was hilarious!
I hit the road back to AZ on Monday morning. Got back to my apartment around 8:30 last night. My car's such a champ. I put that girl through so much. Her name is Crackermobile because when the bestie and I used to do our CA-AZ road trips, you were certain to find a package of crackers on the dashboard :) She's a 2002 Mitsubishi Lancer who currently has 145,000 miles on her. She may get sent to the glue factory in the next couple years, but she's the best first car this girl right here could have asked for.
Fun fact (that most probably wouldn't acknowledge): I also named my GPS system. Her name is Gwyneth because she sounds like an uptight British gal.
If you read this entire post, you deserve a

Until next time, my SparkleLovelies!