Tuesday, April 24, 2012
Hey there, Sylvester McMonkey McBean, here's my star machine!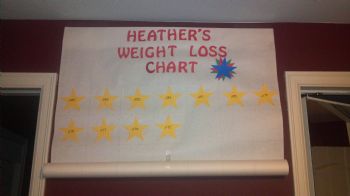 It's HUGE! I decided to add stars for pounds lost. I like me some big motivators. I could only fit 7 starts to a row, so I had to make it 16 rows long. It goes from ceiling to floor, and will be let out a little at a time as I add stars for pounds lost. Each star has my current weight written on it to the nearest pound. Right now I weight 275.8, so the "275" star is up. Any fraction of a pound my scale reports gets dropped to report the weight in whole pounds. It's a little weird, because it looks like I've lost 11 pounds, but you cant count the first star which is my starting weight, and since I am rounding down, it's slightly over-reporting. Only 9.2 pounds lost actually, but I like looking at the stars.