While living in Zambia in 1972 I had the chance to visit Kasaba Bay Lodge, a game lodge on the shores of Lake Tanganyika.
On the drive into the Lodge through Sumbu National Park in Zambia's north – we had already passed a sign that maybe warned us of the presence of the animals we had come to see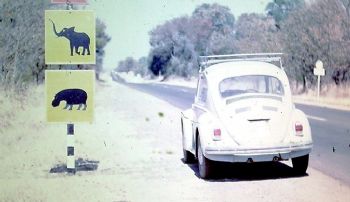 This stretch of road was way back before we got near Sumbu Park – it deteriorated substantially – to gravel with corrugations and at one stage going down a hill, bare rocks that I had to pick my way over with the car with guidance from the passenger walking in front.
Still after a long, in time, though not in distance, trip we descended to the shores of Lake Tanganyika and the fishing village of Sumbu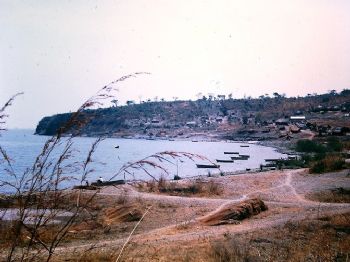 We drove a short distance further, over the headland, to the Game Lodge that we were staying in.
This picture was taken from up the hill behind our room.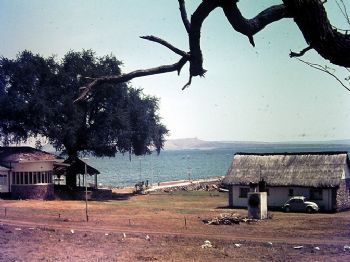 The cottages comprised 2 rooms, one each side, with ensuite bathrooms and showers and running hot and cold water and each room had a private terrace/veranda with a lake view. The buildings were thatched and well-spaced and the larger building on the left was the dining, and lounge area.
That evening we went to the dining area to eat and socialise, with the odd drink on the terrace there, watching sundown over the lake.
Suddenly someone pointed out – we had company. The common time for wildlife to show was early morning and evening so it wasn't unusual that something would show, and we had come hoping to see wild game.
Note: these photos were taken with a very simple camera and have been converted from slides that weren't well stored in the many intermediate years. Even though the light appears different it was all at the same time and actually full daylight still.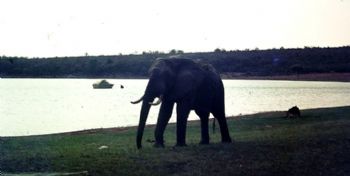 Jumbo was wandering along the shores of the lake.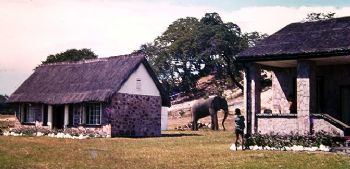 Round the buildings in the Lodge he ambled, obviously following a well-worn track.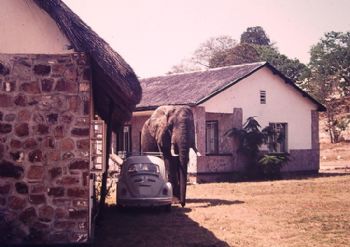 Oops –mind my car!! Elephants can't see well and often work by smell and touch – and my car was on his track – I lost my drivers mirror!! He passed rather close to the car!!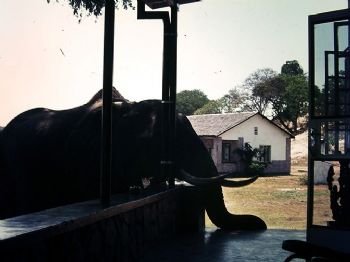 Maybe there's an odd bread roll down here – I'll just check it out before I move on.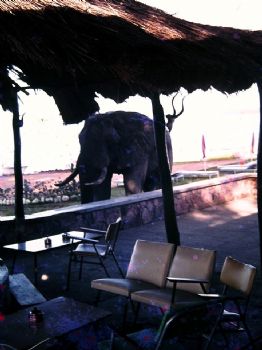 Then he walked right past the front of our building – you can see we had vacated the chairs rather fast!!
But he hadn't finished his investigation yet!!
Maybe I can share – or at the very least join you for Dinner?? Pleeeease!!
Yes – he is wild – though I suspect used to wandering that path and thrilling visitors – there was a staff member standing right by to take charge had it been needed.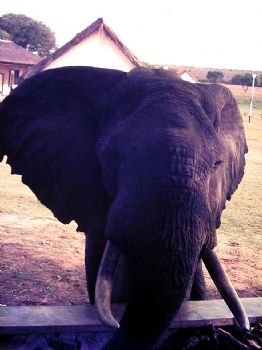 Hello – well you did come to see us, and I love having my photo taken!!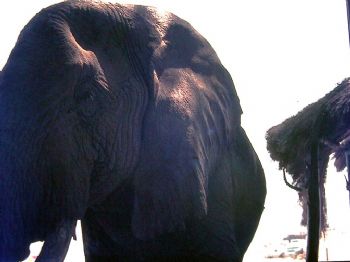 Wooa!! That's maybe not my best angle!!
And off he ambled – seemingly quite content, leaving a group of tourists with photos and an experience that they would never forget!!
That was in the 70's and the area was teaming with wild animals of all types – these days there are far fewer wild animals in that area though I hear the larger game animals are slowly returning. Drought and poaching have taken a huge toll!!