Saturday, April 21, 2012
wow! Cannot believe I am already 20 weeks pregnant! half way there now.
Work has been so busy that I haven't had a moment to stop and blog about it.
I am finally sleeping better on my sides. Which is a lot nicer. I can also now handle a bit of milk in the morning. Woo hoo!
That means I've been able to eat cereal in the morning. I was getting sick of toast every day for breakfast! hahaha
We also found out that we're having a boy! So happy! I've been picking out boy items lol. I have yet to buy anything because our house is going to be put up for sale this week so there's no point buying anything yet.
Here's picture of me at 18 weeks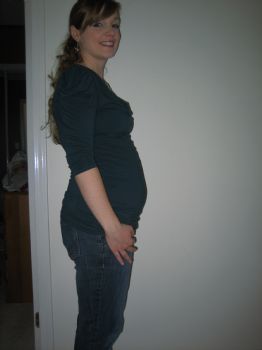 My belly has come out a bit more...but not too much. I just haven't taken a picture yet. lol
I finally felt the baby kick yesterday and have been feeling it today. I was getting worried when I hadn't really felt the baby yet. but he's been kicking yesterday and today! lol
I also ordered the new Turbo Fire workouts and love them. They are still tough and it's low because she makes you get really low to the ground...which I can't do pregnant...but Ally is still there so I am modifing them. However, there isn't much jumping so these HIIT workouts are much easier for me to do while pregnant.
The Fire Starter Workout is great for me to do right now as well as it's more low impact. So it came out at the perfect time for me!