Repeat for LIFE
Friday, April 20, 2012
Coach Nicole posted this on Facebook and it really hit home with me.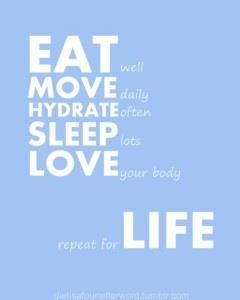 Repeat for LIFE is the 'biggie' for me. I'm closing in on almost a year of 30+ pounds lost (healthy BMI!) and MAINTAINED without fad or restrictive dieting. Sure, my weight went a little up around the holidays, but I re-focused, didn't let it discourage me and fixed it. And I still lack willpower around sweets at times, but I know that I won't have a loss that week, or need to workout a bit more to offset the little splurges (Luckily I can stop at indulgences and not binge). This is my new lifestyle. I track my calories in / out and work out at least 30 minutes five days a week (usually more). It is amazing that with all of the diet fads out there, it simply equates to calories in, calories out. As long as I am honest and true to my tracking, and giving it my all in workouts – it WORKS! I do hope to lose a little bit more over time, but I have reached a point where I love my body again. I love my new muscles!
I just get so filled with joy that I found SparkPeople and that it has given me hope to maintain this healthy lifestyle, deal with struggles (I have plenty) and hopefully inspire others to do the same. This supportive environment made all the difference. Whether you need to lose 140 pounds or 40 pounds, or want advice on starting to run a 5k, we are in this together!
I hope everyone has a happy, healthy and active weekend!!