With as much as I have left to lose, it is still surreal to me to look at my old clothes, my old measurements, and realize that that person was me. It is hard to fathom what life was like 4 years ago. That is why I blog and share as much info as I can about my journey because I do not want to take this liberty for granted.
Neither do I want to forget what bondage was like.
I sometimes get so used to what life is like now, that I forget about how torturous an existence being almost 400 pounds really was. Please do not think that I am bragging about what I have done, rather, I am building a memorial of remembrance so that I will never forget, will never get sloppy, lazy, or careless, and NEVER doubt the reality of what has happened over the last 4 years. It's easy to do.
I will never know what my true starting measurements were since I was not working with a trainer at the time and knew nothing about Sparkpeople. Here, I would have been encouraged to do so and I so wish I did. All I have to work with is the estimate of taking my starting measurements when I began training and add 30+ pounds to it to get some sort of mental picture of how big I really was.
Here are my old pants against my current pants and my old pants against a conventional doorway.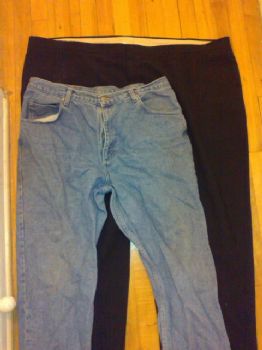 My Current size 38 jeans compared to my size 52 dress pants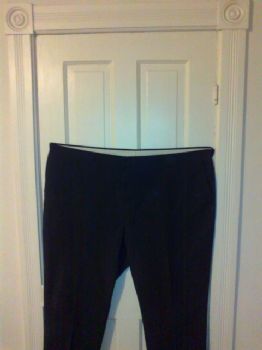 My size 52 pants against a normal doorway
Here is an email from my trainer I got this morning....
----------------------------
--------
July 17th, 2009
Weight--above 350lb. - couldn't weigh-in on our scale at the time because of this.
No measure of body fat% - but estimated at over 50%
· Neck - 19.75"
· Chest - 58.5"
· Waist - 55"
· Abdomen - 59.25"
· Hips - 58.5"
· R. Thigh - 26.25"
· R. Arm - 18.25"
April 17, 2012
Weight - 270.2lb.
Body Fat % - 36.0%
· Neck - 16.5"
· Chest - 49.25"
· Waist - 44.0"
· Abdomen - 45.0"
· Hips - 47.0"
· R. Thigh - 20.75"
· R. Arm - 14.0"
NICE WORK!!!!
Amber ******* , BA, NSCA-CPT
Corporate Wellness Supervisor
----------------------------
-----------
Overall results - inches lost...
Neck 3.25"
Chest 9.25"
Waist 11"
Abdomen 14.25"
Hips 11.5"
Right Thigh 5.5"
Right Arm 4.25"
These results do not include the 30+ pounds i lost prior to coming for training so i will never know the true results but I can only imagine.
To date.. total percentage of weight loss.. 30%
How amazing is it going to feel when I reach my goal this year?
I can only imagine.....