I am hoping today is the end of the tiresome job of pruning Junipers with a battery powered reciprocal saw but that is what I have and I do not intend to handle a chain saw.
DH and I moved these junipers from around the house about 35 years ago. It took us a long time but we were both fitter in those days. We never hired people to do anything we could do together, there was little money for that kind of life and we always liked to do things together-Still do but DH is not able to do too much since his arthritic hip and foot have slowed him down. I insisted I do it alone because this is not the time for any more inflammation. He is very supportive and very involved as my picker-upper and sidewalk supervisor.
I have been digging this area off and on for a week now, digging around what I had transplanted last fall. The reason for moving the Hosta was simple we love them but they attract slugs which in turn attract SKUNKS. A very good reason to move them further away from the house.
This Spring we decided the area around the Juniper hedge was a problem for DH to mow so I decided we would cut them back. Looking underneath them I saw a massive convoluted system of very fat trunks. There was no point trying to dig them out they can stay where they are and I pruned them. Today I was working for close to 5 hours I had done this since Monday but the earlier days I had a break and walked with friends. Tomorrow I have a class so today was my last opportunity before RAIN on Saturday, we are at a fire code RED as other places are and we need a good soaking rain to wet the forest floor.
This shows how much I did today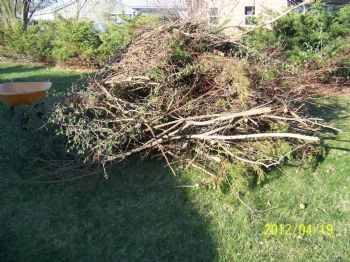 Showing the big wheel barrow might give some perspective to the pile of pruned branches.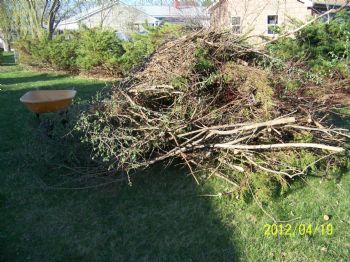 I am fearing some people are thinking we have a really big garden we do not.
This is the flowerbed I am planting because the Spruce tree on the right was planted by my mother NORA when she last visited us in the US in 1975. Later that year she died from in juries she sustained in a works accident. Our son's never saw her again we could not afford the extra three fares.
I and DH saw her for one week after she regained consciousness from a 64 days coma. That is why it has become special to me.
The spruce seedling was one of 5 she planted, they cost 25 cents each as a fund raiser my Woman's Club was doing to plant trees at the State museum in Augusta.
Now you can get it in perspective even better. This is how it looks today.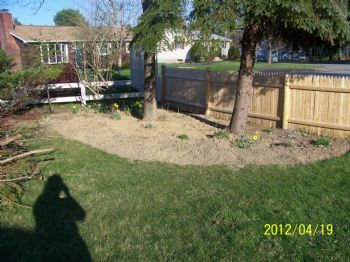 The daffodils and Hosta spent the winter in this bed and they all seem to be thriving there so far. Digging it is a nightmare because of all the tree roots just beneath the surface. I had no choice where to put these plants I just had to dig till I found a big enough place to fit them in.
My original thought was red/ white and blue but once I saw the variegated Alyssum I had a change of heart, Woman's privilege remember!!.
These boxes are for the perimeter front border. Our nights are still cold so planting is held up for a few more days but by then I will find some other plants I am looking for.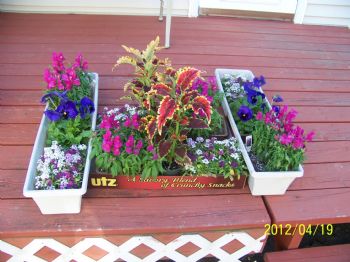 I have Garden Gnomes. We keep them in the fenced area of the yard because of late there has been a number of thefts. We had some lighted rocks given to us by a neighbour. They were made of ceramic and were solar lights. I loved them at night the gnomes were lit up and it was so pleasant to see them Someone took five of them and damaged the others, I was happy they did not damage the Gnomes they are made of a resin. For the past five years our grandchildren have come to Maine for the summer and one bored moment with nothing to do after swimming I suggested they " touch up" the paint on the gnomes. They decided to paint them new clothes. They had done the same thing when summer comes it is gnome painting season. I suspect our 6 foot 2 inch grandson who is 14 years old might just want to do other things with friends.
All good things must come to an end, Having him and his sister here in Maine was a wonderful treat for me. If it happens I will miss them but having had them like that allowed us to bond as a family, I needed that.
That is my blog. Not very much to see but it will get better in time,
Thank you for asking for pictures. I hope they too get better in the future.
Pat in Maine.