Thursday, April 19, 2012
When I started this new workout routine that meant balancing swimming, strength, and running, I started this checklist on my fridge. The top lines are my workouts and the bottom part deals with nutrition (eating in range, 5 servings of veggies, 4 servings of fruit, & water).
I've struggled with getting everything all lined up at once but this week (by being very careful about my choices) I'm on track!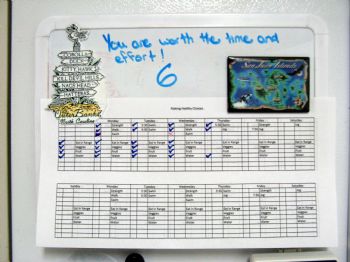 *The "6" above the list is my workout countdown. For every 10 days of working out I get a $5 reward (usually a magazine). Sometimes I work towards bigger things like 40 days of exercise for a $20 reward..*