Up to this point I have never been able to document my official starting weight because I haven't been to a doctor in years prior to my new job. It finally dawned on me that I might find it at the clinic where I took my pre-employment physical for the mine. I stopped by occupational health and SHAZAM! not only that but also the re-entry form from when I was laid off on 2009. That form was equally important to me because it is a reminder of what can happen when you lose control. When I was laid off, I had gone from 385 to 335 then in 4 short months had gained 25 pounds due to out of control emotional eating.
When I came back, I weighed in at 260. I almost cried but took it on the chin. Having lost my momentum, it was very difficult for me to get back to doing what got me to the 50 pound loss in the first place. After a few months of floundering, I got serious and hired a trainer.
I had stopped working with my trainer back in August, 2011, about a month or so before my first marathon. At the time I was feeling like I had learned all I could from her and I was itching to take off my "training wheels" so to speak and show "mom" that I can pedal like a big boy. Nothing personal but I have to spread my wings now, I can't be babysat the rest of my life. I either have learned from her or I have wasted alot of money getting educated for nothing. I have either obtained the discipline necessary to complete my journey or I am a total washout. Time to prove the metal.
Fast forward to yesterday. This was a pivotal moment for me.
I contacted her to set up a once a month session just for accountability and weigh in. I can workout on my own but to have someone there helps me alot. We established a new baseline and did really good. The part the really hit home was when she measured me. i dropped ALOT of inches in 8 months (i will have the exact numbers later) She was really happy. So was I, after 8 months on my own, I proved to her and to myself that I have what it takes.
It felt like a reunion with a long lost friend. We have been through alot together since I first started my journey. My stubbornness, my goofy and sometimes smart-aleck humor, my emotional meltdowns when I "fell off the edge" a few times during my workouts. She is half my age but she was like a mom to me but she also didnt take any of my crap either.
She is one of my best friends.
After the baseline eval and workout, I was getting changed and saw another "friend". The scale where it all started. I loved and hated that thing.
When I first started, they could only take my word for my starting weight because the scale pegged out and they couldn't get a measurement.
I had to lose weight just to weigh in.
Before leaving the gym, I had to try something... I got on the scale fully clothed. I mean my gym clothes on underneath my street clothes, heavy jacket (it was freezing out), sneakers, and pockets full of stuff.....275 lbs... that is a far cry from where I couldn't even weigh in because the scale only goes up to 350.
this morning I weighed in at 268. 30 more pounds and we train for the Half Ironman.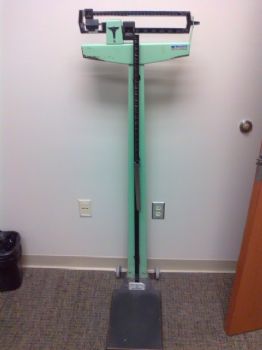 **The scale where it all started **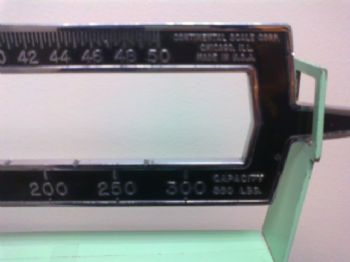 **PAGE FROM MY INTAKE PHYSICAL**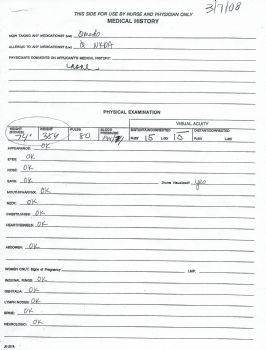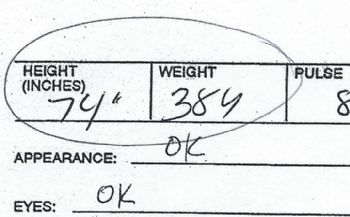 **BACK THEN**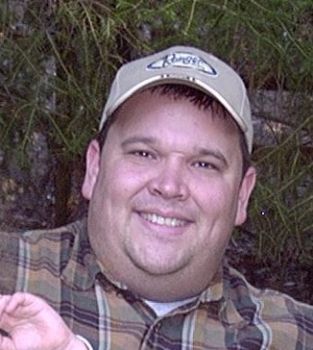 **YESTERDAY AFTER EVAL**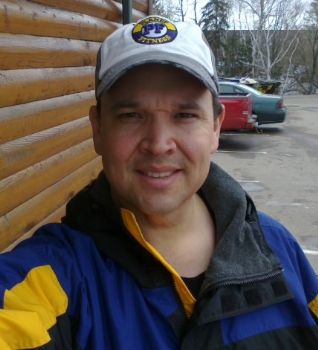 I am about to start my first of 7 night shifts tonight so I have to get to bed but i am going to sleep a happy man.
I will dream happy dreams of finishing a Half Ironman. These aren't dreams of bravado. Rather, there is a deep settled peace and confidence that comes with the inner knowledge that it WILL happen, not if. I felt the same way about my first marathon. When you go after something big, you feel a calling inside that signals to your heart that it is time. Hard to describe but if you've been there, you know what i'm talking about.
I am so close to reaching my goal.
It's time.