Tuesday, April 17, 2012
Everything is going well still with the pregnancy. Blood pressure has remained stable, hasn't gone to that cutoff point of 140/90 yet, so I'll still be able to have the water birth I want at the birthing center. My weight gain continues to be about a pound a week, so if I make it to 40 weeks I'll be looking at a total gain of 40lbs during this pregnancy. I say "if I make it" because the women on my paternal side tend to deliver around 38-39 weeks, baby has been head down since at LEAST 18 weeks, and at my last midwife appointment on Friday it was confirmed that baby has dropped, and the head is engaged. I get my first cervical check on the 23rd, and we'll see how far along things are at that point and see if I should start taking evening primrose oil.
We have about 90% of the things we need for baby. The big things like the co-sleeper and the car seat, but not some of the little things like a nightlight and wipes. The nursery is now painted and has most of the furniture in it, but the furniture isn't in the right places, we still need a curtain rod, and the closet isn't organized. But I'm really not stressing about any of these things. I've been feeling very peaceful and content, and ready. Not in a oh-my-god-I-can't-take-being-p
regnant-anymore type ready, but ready in the sense that I feel like I'm mentally prepared for birth and after. My husband too. He's been amazing on this journey. We've now completed birthing classes, newborn care class, breastfeeding class, and all that remains is a one day summary of our birthing class on the 22nd.
It's finally seeming real that there's a little person in me, and I can't wait to meet him! Here's what we think his coming home outfit will be as of right now: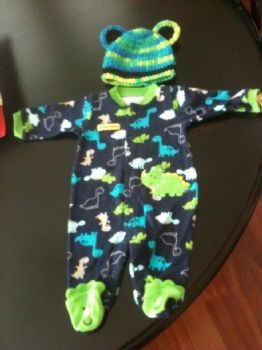 Here's me right at 37 weeks. Still no stretch marks - knock on wood!!!