Tuesday, April 17, 2012
So I was thinking about the topic of self-sabotage on the way into work this morning. Last night ended up not being the best night for me. The day started out well with my tracking all that I did with my nutrition and my fitness. After work I packed up my dog, Bradley, for a hiking trek.
Our hiking trip included a lot of uphill climbing until we reached our destination (a well hidden geocache near a cave). And then it was a little challenging on the knees on the way back down as some of the climb was pretty steep. We had water on the trip but I didn't pull out my trusty apple, big mistake.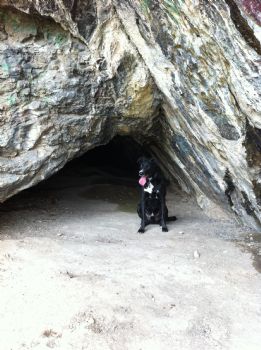 When Bradley and I arrived back home, I was feeling wobbly in the legs. And then I felt a surge of fatigue and I was basically done for the rest of the night. I was barely able to feed both the cats and the dogs because I had become both very tired and very lazy at that point. My plan had been to make a lovely dinner for my dear hubby to come home to after his class. Fortunately there were leftovers in the fridge but not the best choice. And then I hit the freezer afterwards making more bad choices.
Amazingly, this continued on into this morning. I couldn't sleep well the night before and woke up, not feeling too great. I had a headache and an upset stomach.
So…my question is: Is there such a thing as self-sabotage?!?!?