Ok I have completed Week one which means I keep my calories around 1200 while increasing my proteins and keep up my exercise routine. I lost 7.8 lbs this last week, now that is super yet I need to let you know that a part of that was water from eating pork products Eater Weekend. I am very happy with the resuts. It took some planning with meals to get the right balance, but I didnt mind since I normally track weekly and get my meals in in advance. But this was different I worked harder to get my proteins up and keep my carbs down. Challenge!
In case you dont know I am trying to work throught Curves 3 cycle dietary program. Cycle one is the 1200 cal you can choose either high carb or protein it last one week. Cycle two is 1500 cal and last until to stop losing, Cycle three is 2000 cal and you follow this till you can not more that 2 lbs then back to the 1200 cal until those pounds are lost and back to 2000 cal and this is repeated till you can hold weight for a week I think. Also part of this is to eat 3 meals and 2 snacks. So you are eating every 3 hours or so. All this is to keep your metabolism firing correctly. I am giong to embrace this programs for the next couple months and really see if I can break through my nearly year long plateau. I know I have read here on SP that if you drop the calories too low you arent going to lose and well you but your body into stravation mode and it just wont let go!!! I know I was on a too low calories plan for too long and it was all my fault.
As many of you are I am a life long "dieter" (hate that word) and since starting on this course when I was 12 in the 60's always been drilled into me CUT CALORIES IS THE ONLY WAY!!!. I know its not on most levels but it is a long held belief. So right now its time to throw that out the door and wash it from my brain and get to really believe on all fronts that its a health balance diet that will help my lose the weight. Oh yes also the need for good exercise and strength too.
This weeks challenge is not to freak if the weight doenst move or goes up a little. I have also had fun LOL working on the menu plan for the week. Think eating 1500 cal woud be easy.......not really especially trying to get the balance. I am adding a couple newer items to get more healthy protein ie not meat. I am using egg beaters, veggie sausage, edamame and more beans and almonds. I really wasnt sure about the edamame but cooked it and added it to some veggies and hey it reminds me of lima beans and those I love. I have had egg beaters before and they are ok, but adding some veggie sausage helped, I am doing this to add protien to my breakfast which normally is just a bowl of Special K with yogurt. So I have having now just a serving of cereal and yogurt and the egg beaters for breakfast.
So the goal for this week is to stick to the plan and keep up the cardio, Curves and Zumba. I will add some other exercises from SP DVD's and I love them since many are short and a good workout. This morning I checked out what Cable had on the fitness menu and found a couple that were fun but work too. Nice for variety and that is always needed.
I am keeping all my fingers crossed that is plan will help with my weight loss and keeping on the right road to getting healthier. For really that is my ultimate goal and healthy me at a healthy weight and a long long life.
Now for some fun I am including some pictures of our front yard with all the bulbs in glorious bloom.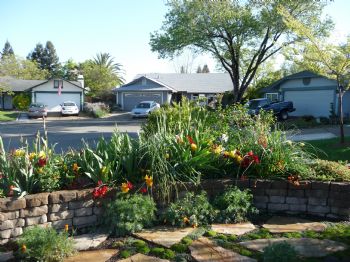 And the backyard pots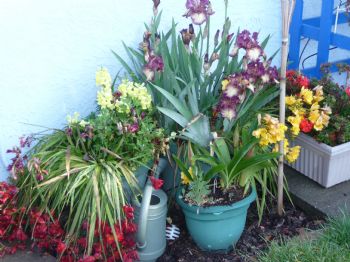 And back lst Oct we adopted three new kitties Marble the momma and Rambo (male) and Princess. They had added so much to our lives and here are some updated pics of our wild trio.
Mable in the chair in the library one of her favorite places so shnooze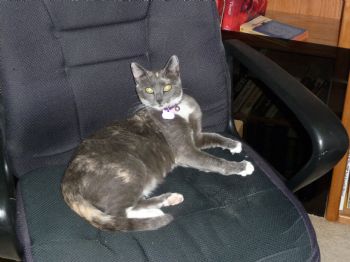 Rambo and Princess. Rambo has the white face.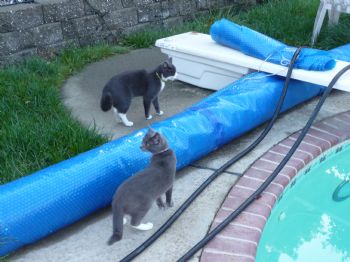 And finally and upclose of Princess playing with the camera cord
Remember to believe in your dreams and in yourself. This journey is not a quick one and will take time but with perserverance and dedication it will work itself to a happy conclusion, Your good Health and long life.
Love you all and thanks for stopping by and spending a little time with me. You are cared about and I appreicate my friends.
Have a super dooper week!!!!!