Tim and I traveled in 2 cars to Staunton on Wednesday. (Tim made the arbor that Joe and Ashley were married under , and we had to transport it.) We got settled in and finished up our final projects.
Thursday I had a manicure, then we went to Sam's to get the food for the Friday night party. Instead of a Rehearsal dinner, the "kids" wanted a party - something less formal. Of course it was upstairs, so Tim and I got a work out carrying everything up 3 flights of stairs. I admit he carried all the heavy beer, wine & pop. Thursday evening Joe and Ashley got to town, so we were able to have a quiet dinner with them. Since we had a "suite", actually the upstairs of an older home with 3 bedrooms, they stayed with us. We had breakfast with them as well.
Friday flew by. Tim's oldest brother was in town early, so we had lunch with them and Joe joined us. Rehearsal was at 3, then "dinner" at a local pizza place. Then the party, which was great. There was lots of food (if you know me - you know this to be true.) The owners wife was the DJ. Everyone said it was a great party. Below is a picture.
After the party, Joe and his friend, Doug, spent the night with us. Doug's parents were staying at the same B&B, so we were all able to have breakfast together. I went to have my hair styled and Tim went to help set up the arbor. (He built it in 3 pieces) The weather was perfect: mostly sunny and warm.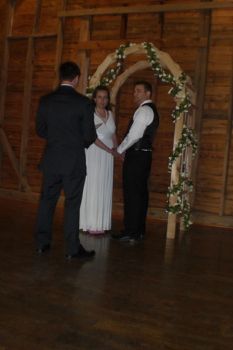 Here is a picture from the wedding, which was awesome. The ceremony was uniquely theirs. From their "promises" . My son's were to cook her delicious dinners, be her tech support, and to keep her feet warm, which are always cold. Ashley's final promise was to be like the force - always with you. They also did a hand blessing, which was very touching.
The reception was nice too. This is a picture of the "parent dance"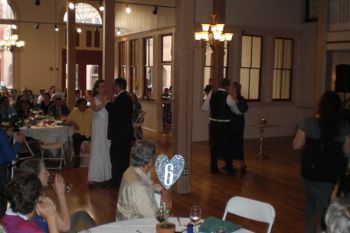 Tim and I dance very little, because we were busy talking to many of our family and friends, who all traveled many hours to be with us.
Sunday morning we packed up after breakfast, since we were leaving later in the day. We went to the Frontier Culture Museum with Tim's brother and wife.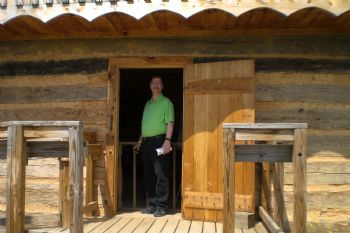 Then Joe and Ashley were packed up and met us for lunch and a trip to the glassblowing shop in Staunton, Sunspots.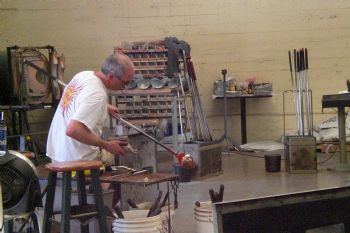 After our farewells, Tim and I drove part way home last night and the rest of the way today.
I now have a most amazing daughter, who makes my son very happy.
Thanks to all of you who stuck with this to the end.

Love, Sam