What exactly is an obstacle?
Have I had any?
Would I know it if I did?
An obstacle is really just an excuse not to succeed!
It would be so easy to sit here and say that I have obstacle after obstacle get in my way of succeeding at my weight loss, but when in reality all they really are is excuses.
Sure I could say that I had a hard day at work, I have a headache from all the stress and I don't feel like working out, or eating what I had originally planned..
Where is the obstacle there?
There is none, it is an excuse, plain and simple!
I started to come here and talk about how bad my week has been, how I have not made it to the gym because this got in the way or that got in the way, when reality is all I did all week was make up excuses!
Well it's time to drop the excuses and live reality~~
And what is the reality?
I have 80 pounds to lose!
I have to work to lose it!
I have to eat right to lose it!
I have to plan and make goals to lose it!
Here is quote on Obstacles!
Crystallize your goals. Make a plan for achieving them and set yourself a deadline. Then, with supreme confidence, determination and disregard for obstacles and other people's criticisms, carry out your plan.
Paul J. Meyer
That pretty much sums it up, does it not!
Get clear on your goals, write them down, devise a plan to reach those goals and by when you want to reach them..
Then let no one, not even yourself stand in your way..we are our own worst obstacle!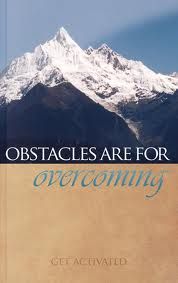 It is time to be the Ant!
He let's nothing stop him from his goal, he decides he wants to lift someting and move it, he does it, he holds strong and does not stop until he has accomplished!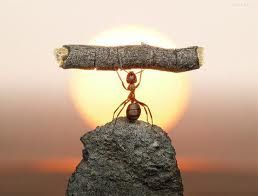 So what is an obstacle to you?