6:00 p.m. - First time I'm sitting down with nothing to do since 6:00 a.m.
Quick recap of yesterday. I couldn't figure out what I wanted to do for a workout yesterday because I wanted a good workout, but not so much that I wrecked any chance of being able to move for the 5K this morning. I settled on riding my bike 3 miles to the bike shop to pick up my cleat covers and drop my bike off for a tune up and then walking home 3 miles. On the walk home, I noticed the downhills (that were uphills on the way to the bike shop) and could NOT believe I had ridden up them on the bike! So it was a really good day for workouts and pretty good for food. I was really good before the Diva's game. At the game I had a soft pretzel and a beer. Then we went out for dinner and I had a salad with grilled chicken - and no more alcohol. I would have skipped the pretzel if I had known we were going to get food afterward. But all in all, a pretty good day.
Today we got up at 6 to head out the door by 6:30ish to get to Lorton for the Prison Break 5K. I was supposed to have company on the walk, but Christie was sick this morning, so I was on my own. Half wanted to talk myself out of it because finishing the 5K a couple weeks ago dead last would have been really lonely if Brandon hadn't been walking with me. But I made me do it and just hoped for the best. When we got started, I tried a couple of easy running steps and was actually able to run this time! It went pretty well for awhile. I had my music and I tried to run at the beginning of every song for as long as I could.
I started out dead last and just hoped I'd be able to figure out where the turns were by the time I couldn't see anyone else anymore, but I ended up passing about 8 people and stayed ahead of them for the rest of the run and had a couple of people in front of me that were always within sight. Every turn was really well marked AND there was someone sitting at each turn to make sure we didn't go off course. I finished in 44 and change - 11 minutes better than the one a couple of weeks ago. I was practically dragging my bad leg for parts of that one, so not too shocking that I did a better time, but I'm still really happy that I did under 45. Should be able to do even better at the Frederick Twilight 5K in May. Would be really great to be able to run the whole thing by then, but it's only three weeks away. Guess we'll see how it goes when we get there.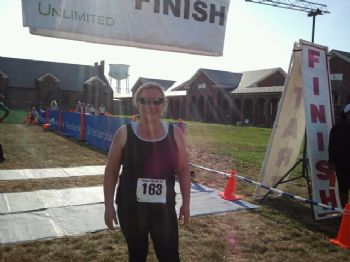 Maura won first place in her age division and did a PR! With the way the route was laid out, a bunch on a single lane trail through the fields behind the prison, it's pretty impressive that she pulled that off.
After the race, we headed home to get ready for the game brunch. I blew one of my sweet allowances on a small piece of chocolate cake and a small piece of lemon cake (that were worth it!). And between the egg sausage casserole and the bacon, I'll be looking for a really light meal if I even have dinner tonight. I didn't do anything fried or any alcohol, even though I was surrounded by it. :-D
The game brunch was a way smaller turnout than usual and a lot of the usual suspects, including ring leaders to instigate a lot of the games weren't there, but it was a good group and we had a good time.
I'm sitting around catching up on SP and email for awhile and then I'm going to get in my 30 minutes of organizing and get my stuff ready for work for tomorrow. Then I will join my coma in progress.