Yesterday, I participated in a Despooking Clinic with my horse at our trainer's facility. Horses, being herd and prey animals, are easily frightened by anything in their environment that is new to them, or anything that moves and makes noise! Yesterday was a particularly good day for that type of clinic, because the wind was blowing hard and causing many of the items hung on the fence for the clinic to flap in the air!
While riding, if your horse is spooked, they often jump either staight up in the air or sideways violently, and the rider is lucky if he or she is not unseated! So, the thing to do is teach the horse from the ground, first, that the object will not hurt him!
Lexi, learning that the violently flapping tarp on the fence will not eat her!

Once they learned to be safe on the ground, we mounted and began to try riding through some of the obstacles. Only one lady fell off her horse, but wasn't hurt seriously. She was a trooper
and got back on and finished out the day!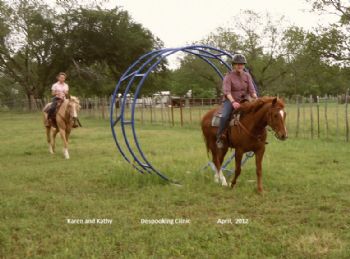 Kathy, riding her horse after falling off in the arena. So glad that she wasn't hurt!
This is Lexi and I, riding over a "rocking bridge". That is our trainer in the background on the gray horse. Just after this picture was taken, Lexi jumped sideways off the bridge but thank goodness, I stayed on!

The next obstacle was a hay ring standing up on its side in the field, and our assignment was to ride our horses through the low, round opening! I pointed Lexi at it, and she hestitated for quite a while, and it took some urging, but finally: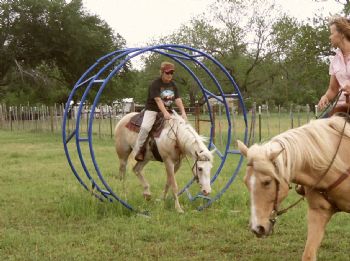 SHE WENT THROUGH!
Other obstacles were a bridge over a ditch (which most of the horses wouldn't cross), two tractor tires sitting up on edge (we had to ride through them) a pile of red dirt to ride over, and a ditch filled with water to ride your horse through. We also rode over the obstacle again that I am riding over in my profile picture, for the benefit of the people and horses who were not at that clinic.................
All in all, it was a fun, eventful, and tiring day! I am proud of Lexi though, and my trainer said he was proud of me, because Lexi hadn't been ridden since November, and she was ' feeling her oats' to begin with! He was happy with my horsemanship and the way I rode her......so that made me feel very satisfied with the whole experience!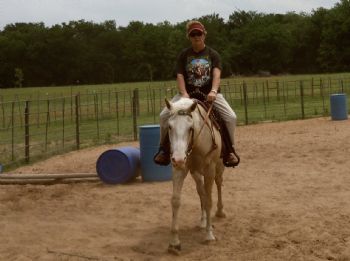 Following are some more groundwork pictures: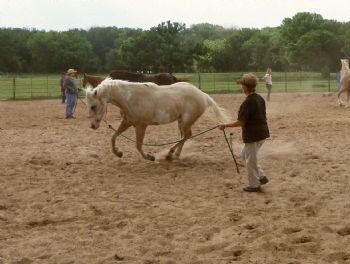 Me lunging Lexi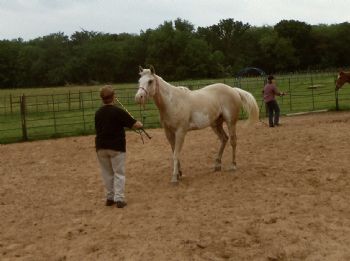 Backing Lexi out of "People Space"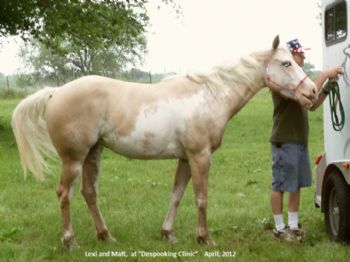 Lexi after the clinic, earning a well deserved rest! That is Matt at the halter!
I want to thank my husband, Matt, for being the official photographer, so I could share my experience with my friends!