So I'm still fighting a snuffly nose and some crazy sinus unhappiness, but I'm feeling better. Less miserable than Friday, for sure! My carb intake has been a little higher - I didn't plan out my meals, and felt so lost yesterday morning when I went to make breakfast, haha! It's funny how quickly I grew accustomed to knowing exactly what to eat.
I took that rest day yesterday after all, and promised myself I'd do a bunch of push-ups and chin-ups today after the 10k race to make up for skipping that P90X Chest & Back video. I haven't yet. We'll see if I do.
The 10k race was fantastic though! Max and I stuck together, as was the plan, and just ran comfortably, not aiming for a particular time. After little (me) to no training (Max), I had been expecting a lot more walking, but was pleasantly surprised: we only walked at the water stations and finished in 1:07!!! That might be my fastest Sun Run yet! (I'll have to check my SparkPage - now I'm glad they're all still posted there!)
Saturday:
1722 calories, 184g/136g/55g (41%/31%/28%) carb/pro/fat
122 calories burned, just some walking around all over downtown (went wedding ring shopping!)
Deficit of -217, which is fine for a cranky higher-carb rest day, I think. Today's deficit will be better.
(Added @ end of day:)
Sunday:
2030 calories, 290g/102g/63g carb/pro/fat (54%/19%/27%) - you can tell it was a race day! Carbs before and after, then a not-terribly-settled tummy the rest of the day.
887 calories burned (10k race)
Deficit of -674 cal, woot!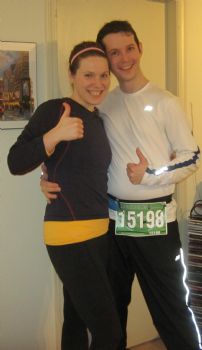 I love a good skinny photo. Turning the hips to a 45 degree angle... works every time!
Goals for tomorrow:
Back to the high protein plan and the strength training. Going to go plan my meals and drop my workouts into my iPhone calendar now!