Tuesday, April 10, 2012
Today was the final class we made wheat tortilla chips and spicy white bean dip and also made hummus today, it was all really good. While we were eating and celebrating the chef sharpened our knife sets that we brought in from home. It is so nice to have sharp knives again. The main chef was not there today she was sick so have no idea who won the grocery store challenge.Knowledge gained in the class is good enough for me:) The class was alot of fun we exchanged phone numbers and e-mails with each other to keep in touch. We were also finally allowed to take our course book home, lots of good information in there with a lot of good recipes to boot. We also got a fast food guide not that I eat out anymore, however, nice to have on hand. I got a course completion certificate also today.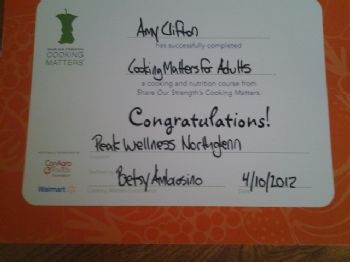 Today was such a beautful day 77 degrees as a high today a gentle breeze and very clouds in the sky. I made Chef Meg's Cocoa Crusted Pork Tenderloin for dinner tonight it was really good.