Tuesday, April 10, 2012
The second day we spent walking around Seville involved a lot more walking. During the morning, We visited the Alcazar, a famous and huge Moorish palace with beautiful formal gardens. Walking and walking while taking seeing many beautiful and impressive sights, made me realize that we wouldn't get to see it all. It was far too vast. While the building showing the elaborately designed Moorish tiles was beautiful, my favorite was the huge elaborate formal gardens.
We had beautiful weather for exploring too... sunny and warm.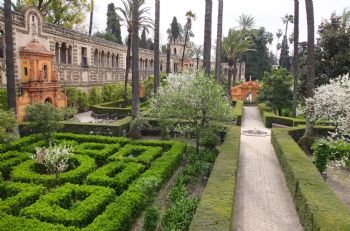 After an espresso... needed to supply energy, we spent the afternoon exploring the Cathedral of Seville. I have read so many books which describe details of Gothic or Medieval cathedrals, but never having visited found the description impossible to visualize. Finally, I get to visit and see the inside and understand how the parts fit together.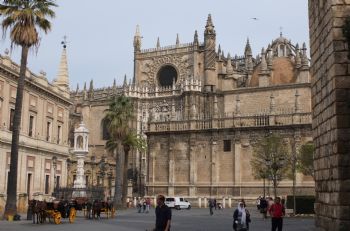 I had no concept of just how high "vaulted ceilings" were! It wouldn't even fit in a photographic frame.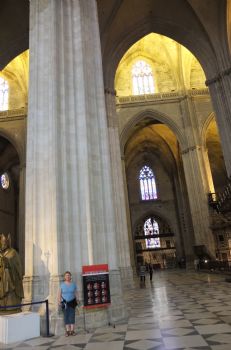 The last part of our tour was climbing the east tower... all 34 flights of stairs! Whew! Very steep and dark stairs, but worth it for the view of the entire city!