Tuesday, April 10, 2012
The past 15 months have been filled with pushing myself to new levels in health and fitness. I have bruises, medals and now mud on my face to prove my endeavors.
Most people log on to spark people, join Weight Watcherís, or purchase the next best seller on the late night infomercial, thinking this diet is the one that will work, and it just really becomes the next diet that fails. Wow that sounds negative doesnít it, especially coming from the girl who endorses all of the above items to anyone who will listen daily. Itís not I feel like these tools are not the answer in fact I think these tools are the answer and when use4d appropriately yield tremendous results.
Why, the negativity? The answer to that question is because in 15 months I had the biggest epiphany of my entire life. The word ďDietĒ when used to mean lose weight is a temporary quick fix. 15 months ago I decided not to lose weight but to get healthy. The 120lb weight loss was an ecstatic by product of my quest to live healthy. I didnít run a half marathon or complete Insanity over night; nor did I suddenly become a clean eater over night. I started by sticking to a plan and gradually making clean changes. I started walking and have ended up running.
Me with my game face and no make up. ugh.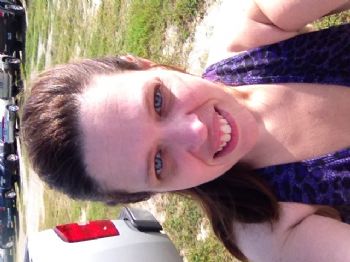 I started with small goals and ended up completing not only a half marathon but also a mudder dash. Whatís a mudder dash? A mudder dash is a 3.1 mile race with anywhere from10-12 obstacles that you must overcome and endure to complete the race. I climbed barrels of hay, a 10 foot wall, a 25 foot cargo net, swam and ran through mud and crossed the finish line with my shoes in my hand. 15 months ago I could barely walk up the stairs without feeling like I lost a lung and 10 days ago I climbed a wall and a cargo net. I swung across a ditch on a rope and slid down a mud hill. Iíve never considered myself an athlete but I sure did do what athletes do.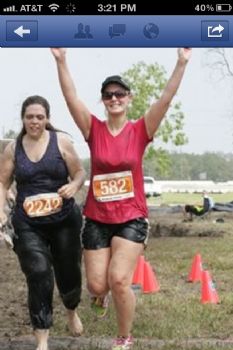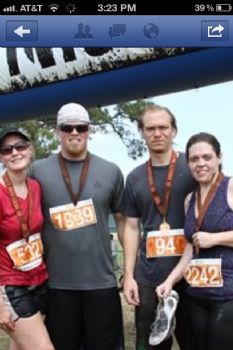 This is what I earned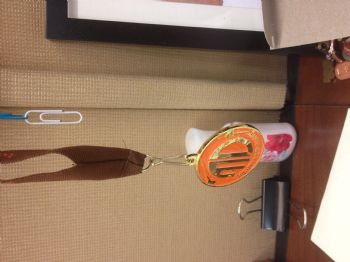 While I am extremely proud of the amount of weight that I have lost, my truest and biggest accomplishments are those that have pushed me to test my resolve and my fight. I havenít quit or given up. Iím not the fastest but I always finish. My lesson for this blog is to tell you that you can do anything you set your mind to do as long as you donít quit and/or give up. Keep at it and you will get there.
**There arenít many pictures because the photographs from the event were terrible and way overpriced for what they were. I didnít take too many myself because I didnít want to ruin my iphone.