Monday, April 09, 2012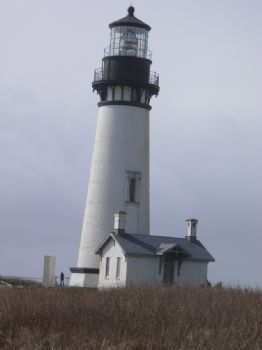 I just got back from a long vacation at the beaches of Oregon. One thing quite common are the lighthouses along the shoreline. Some are newer and have more updated equipment but the one pictured here is my favorite, the Yaquina Head lighthouse. The lighthouse shines through the night to warn seafaring craft of the rocks that rim the shoreline and to stay away. They are faithful illuminating far out into the darkness of the Pacific Ocean.
It made me think of my inner lighthouse which is not so faithful. No. That is not quite correct. My lighthouse does send out a warning that I shouldn't eat a particular food, but I don't pay attention to that consistent warning. While on vacation, it is quite tempting to eat all the wrong foods. All you have to do is order it and it magically appears before you. I love to eat out because I don't particularly like to cook. There is often a wide selection of foods both healthy and not healthy. My lighthouse is shining as bright as it can, but I look the other way.
Often if I don't heed my inner lighthouse, I pay for it some other way. Greasy foods don't agree with me anymore and neither do rich foods slathered in butter or sauces. This really is a good thing in the long run. We eat pretty healthy normally at home with fresh foods and limited packaged products. I feel better when I eat right and my body likes it too! I have increased energy, brain works better, and all bodily functions are performing.
I sometimes mourn over the breaded fish and chips or the whipping cream displayed on a Belgium waffle, but I realize that to be healthier in the future, I have to forgo the habits of the past. By listing to my inner lighthouse, I can reap all the benefits of a healthy lifestyle into my last third of my life. Rather than repeatedly crash into the rocks, I need to heed the shining light that is my inner voice that knows what is good for me instinctively.