Monday, April 09, 2012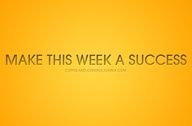 After three weeks of sitting in the hospital with my Dad, getting back on the workout band wagon felt so good!!! I have set my goals for the rest of April, and one is to get in 20 days of cardio the rest of the month. Anyone want to join this challenge is welcome. I have it posted on my FB fitness challenge as well.
www.facebook.com/pages/I
ts-Personal-with-Becky-Ben
nett/164323940269771#!/gro
ups/104405763017722/
Yesterday's workout was a Killer incline treadmill program. ( I posted the workout on my FB page for others to try out.) I'm just feeling like a total slug and KNOW that my weight has crept up...I can feel it in my midsection due to lack of activity and surviving off of Sonic burritoes and coffee...nice and healthy


So back to my clean eats/paleo foods, back to working out, and continuing to update my kitchen to try and cheer my spirits a bit. Hope everyone has a GREAT week!!!! Thank you for all of your kind words, posts, and goodies. They were a bright light in the darkness of these past few days!