A friend gave me this pic from a dinner that I went to at Red Lobster long before I started my journey. What makes this picture important is that there are so FEW before pics that exist. I avoided cameras religiously, haven't had a professional family portrait taken ever.... BTW, I am long overdue. This picture accurately shows how I really struggled to fit into a booth at a restaurant. I am going to have to hunt for an "after" pic from the same place soon to show the difference but right now, a trip to Red Lobster is not on my agenda, losing a few pounds and training is. My body does not react well to restaurant food very well, even the "healthier" stuff....way too much sodium, I blow up like a balloon.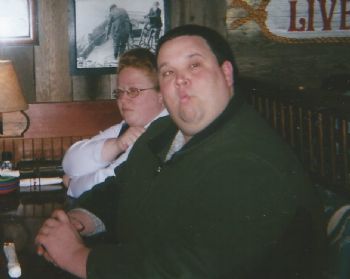 **I was giving the photographer a fishy face and tried to cross my eyes**
Recent happenings....
My recovery is going well, far better than expected actually. I can see my year coming together fitness wise. I have been running consistantly and did a fantastic swim on Wed. I did a 6 lap warm up, then 1/4 mile rested for 5 min then another 1/4 mile. The really good news is that I havent swam for quite a while yet my form was pretty good and my endurance was surprising..
My anticipated race schedule is as follows..
April 28th YMCA 10K, Marquette MI
May 20th Cellcom Half Marathon, Green Bay WI
June 2nd Run For Life 10K Marquette, MI
July 21st Manistique MI Triathlon (Sprint) (Maybe)
July 29th Rudyard MI Triathlon (Sprint)
August 18th Run For A Reason 5K Negaunee MI
September 1st Marquette Half Marathon, Marquette MI
September 15th Iron Mountain Half Marathon, Iron Mountain MI (Maybe)
October 12th Whistlestop Half Marathon, Ashland WI (Will power walk with my wife- her first!)
November Date TBA - Fall Classic Half Marathon, Cleveland West Road Runners Club, Cleveland OH (hope to run with my friend Jan Frandsen)
November 22nd Turkey Trot, Webster NY.. Going home for Thanksgiving :)