Friday, April 06, 2012
For a while now, I have been having horrible bouts of fatigue and not feeling well. I had to force myself to workout, was ready for bed by 8:30pm and would not want to get up in the morning. I knew I wanted to make a change without going to the Dr, running up tons of medical bills and still finding no reason. Been there, done that so many times. I'm tired of being robbed by the medical industry.
After watching many documentaries and doing research, I decided to try juicing. I went out and bought and inexpensive juicer to start with and a bunch of veggies. I have now drank a green juice for two days. I swear I can already feel the effects of it. Here are some pics...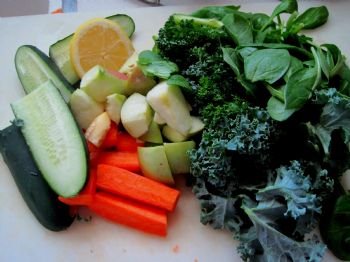 This is what went into my juice. Spinach, kale, parsley, lemon, apple, ginger root, cucumber, green pepper, and carrot.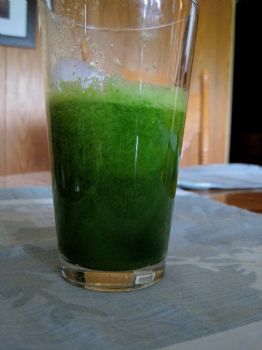 This is the end result. It was actually pretty good! I plan on continuing this once a day, everyday. I will let you know how it goes after I try it for a while but I already feel better.