Mandatory Fun plans!
Thursday, April 05, 2012
It's been too rainy to kayak (I've been afraid it would fill up and I'd sink!), and I don't think the forecasters really even know what will happen this time of year. So I told my best friend I need some serious fun this weekend. Tomorrow, we're going to a spa that has heated rooms you just lay in and let your brain melt all day long.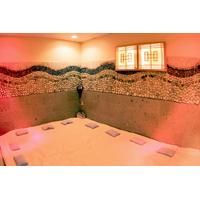 It also has a hydrotherapy room.
I'm so excited to be more relaxed than a wet noodle!
Saturday, we're going to an art gallery where local tattoo artists are displaying their works in oil paintings instead of on humans. I know for some of you that still sounds like horrible torture, which is ok with me, to each her/his own.
Then a movie, something fun but I don't know what yet. I love tattoos but not violence.
Sunday, going to church and catching up with friends.
And I'll be staying with my niece Izzy the whole weekend while her parents are out of town.
What are YOU doing for fun? I hope you have a wonderful weekend!