Got my bike out for the first time this morning. I went just over 8 miles, as the sun was rising. Beautiful morning - a little chilly at -7C, but with no wind.
SP_COACH_NANCY wrote up her blog on our JASR weekend:
www.dailyspark.com/blog.
asp?post=an_amazing_sparkp
eople_weekend_extravaganza
What she fails to mention, is that she didn't find any money on her JASR race. NONE! However, I had found thirty cents under the melting snow on the last walk I had at home before leaving for Pittsburgh. I gave that to her before the race started. And Trish found a dime in the parking lot, and gave that to her when the race was over. So she won't be going home empty-handed.
And we had this little game going on as Saturday night got late. It was called "Last Man Standing", and would be the person who was last to give up the party. I was well in the running as the hours ticked past, but I really had a two hour head start due to the time change. When the last of us trickled into the elevator, I wanted to stay back to be the last one out of the lobby. But then I thought of how Kirsten hadn't slept since Friday, being that she drove all night on Friday night to get to JASR to walk the race with me. She was most deserving of "Last Man Standing", and I easily went into the elevator ahead of her.

Kirsten - you win this one!!!
But before we could go to bed, we had one more little job to do.
Remember how Coach Nancy hadn't found any coins on her own?
We couldn't let her head back to Texas without finding any, so we put our collective coin collections together, and made a trail from her room to the elevator.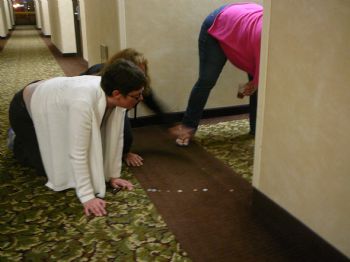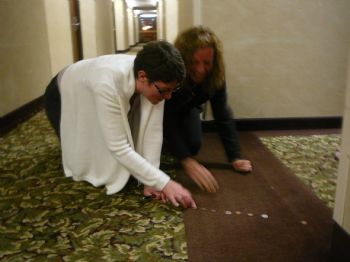 I truly think it hilarious, that the members of the "Last Man Standing" were on their hands and knees in the hallway of a hotel.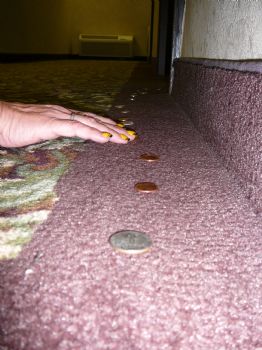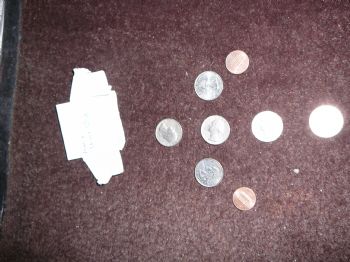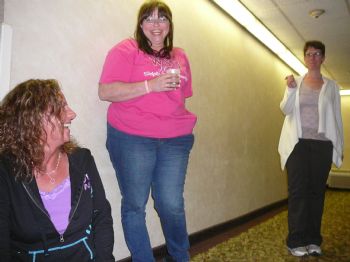 The coins started from her hotel room door, and ended with an arrow pointing to a note written on the back of a cigarette package, saying "Coach Nancy, you are loved".
So true.
This was only one of the fun times that we shared this past weekend. I had to grab my camera and take some shots of this to help me relive it! I literally was shaking from giggling so much .... while trying desparately not to wake anyone up while giggling in the halls in the middle of the night.
So much fun!
I kept waking up in the night, wondering if the money would still be there in the early morning. I wasn't going to see Nancy again before she left, but I wanted her to at least think of me as she was leaving. With all the Canadian coins, hopefully I crossed her mind!
No idea as to the amount we added to her jar - but what a fun memory I now have. Thanks to my partners in crime for helping me with this special memory.