My Charm Bracelet for my 100 pounds lost reward
Monday, April 02, 2012

Thanks to my good friend Jacqueline's (JANDK156) suggestion I bought myself a reward.
I found a charm bracelet. I love this idea. Many others have used charms to reward themselves.
I also had one as a child and I pulled it out. It brought back great memories. I even took 2 of those charms and added to my new one.
Here is a little about each charm:
The K is my initial
The shoe is a charm from my childhood one. I remember I got it cause I ran around a lot. Since I love running now it is just perfect!
The watch face came with the bracelet.
The 100 I made myself with supplies from Hobby Lobby. Signifies my 100 pounds lost
The whistle (works) was a charm from my childhood bracelet. I remember loving that charm. I bet I annoyed my parents a lot with that!!
I have plans for another charm. A scale with the number 100 on it.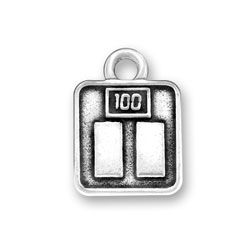 Future rewards will be charms to represent my 2 children, hubby and my likes and dislikes!