jezebel.com/58956
02/mom-puts-7+year+old-on-
a-diet-in-the-worst-vogue-
article-ever
This seriously makes me want to vomit.
This is the stuff that eating disorders are MADE of. How can any parent humiliate and berate their own child? 16 lbs? There are SO MANY ways this could have been handled better, and wouldn't end with the child crying at the end of a magazine article.
See, I have two girls, and I'm terrified that they would inherit my laziness and sedentary lifestyle. They're both naturally slender (at 6 and 4) and don't have an uphill battle ahead of them. I have time to instill a healthy, happy lifestyle in them now, while they're watching everything I do.
So I started now. I'm fixing this now. I don't talk about how much weight I've lost... I talk about how my biceps are showing, and proudly walk around flexing that. I cheer when my 6 year old chooses water instead of sprite when we eat out. I encourage my kids' salad addiction. I laugh and clap when my 6 year old flexes her own skinny little arms to show off her muscles, too, just like mommy.
I never, ever berate them for anything regarding their diet or weight. EVER. I try not to talk about my weight loss efforts, either; I don't want them to see me as losing weight, I want them to see me as getting stronger, healthier, more active.
I'm trying to show them that starvation isn't the way; I don't starve myself or deny myself, or twitter about how that's "not in my diet." I eat what they eat, and eat reasonable portions. I push for more veggies, and talk to my kids about making healthy choices.
Even more importantly... I get up and move! I take them to the gym with me, where they can see me dancing around like a loon in the group room. We get out for family walks, and I talk about my exercise and my sore muscles from exercising.
I don't ever want to fight the battle of an overweight child; so I'm teaching them now, and giving them the tools they need to be healthy themselves. It's already working; while my 4 year old is a bit of a struggle, since she's chosen food as her battleground and is picky as her father, my 6 year old listens when I tell her that cookies are a less healthy choice than carrots, and the odds are good that she'll choose healthy options by herself. She's eating chef salads instead of barbecue at school, and lately has been asking for water unprompted at restaurants. We always talk about eating a little bit of things that are unhealthy so that we can enjoy them.
I may not be the best parent on the planet, but I think I do an okay job.
My girls are my motivation... everything I'm doing right now, these 18 lbs I've lost, the endurance I've gained, the strength I'm sporting... is for THEM. I never would have done it without them.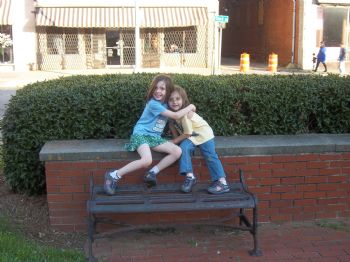 For those smiles? I'd do *anything*.