Friday, March 30, 2012
Hello Everyone :).
NEW HARDWARE
HERE IS THE LEG CUT, THIS IS AFTER STAPLES OUT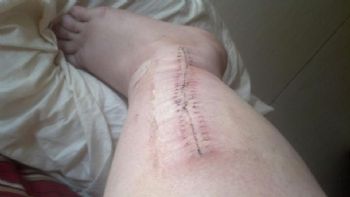 The long metal plate with the 9 screws...surgery was a success and not as much pain as I thought their would be. Only thing that stunk is 10 days later they took the old cast off to take out the staple and I had 40 staples in my leg!! I about cried just seeing them, the last staples my nerves and life made me cry and just shake like crazy. This time I took it like a boss, ha ha I love that saying. Their was no tears, just a good low numbers of OUCH!, some of them somehow went in crooked and that just makes them harder to get out, my leg is now taped with small adhesive things and I have a big huge black boot that I can walk in. SO IN 10 DAYS AFTER SURGERY I AM WALKING!! PRAISE YOU LORD!! I was praying so much that this would happen. I didn't care about having the surgery it was about walking and putting more on my hubbies shoulders to deal with. But all is well, all staples removed, leg is not cramping or hurting anymore when I stand up to walk. Feels so normal. only pain is my ankle some, the cut started at the ankle and went up half of my calf. So shoes will not be used for a while and next doc visit is in a month! I thank you all for the prayers and encouragement , it surly has helped me through this!! Hope all is well with you friends!?!