I checked the CF website this morning and found yet another pic of me. The last one was funny, this one was not. All at once I had about 1000 emotions hit me all at once and it wasn't pretty. Imagine working for 4 years toward a goal only to see it come apart in a moment.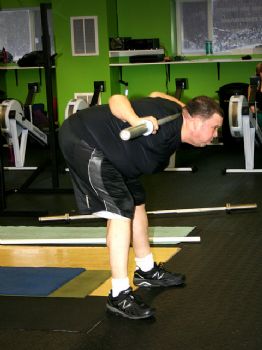 **** This is a 'Good Morning' ***
After having lost 115 pounds and having about 50 to go, as you would imagine, I have some loose skin issues but also I am still squishy too. I understand all of that but nothing really prepared me for the Kodak Confrontation.
I felt in a matter of seconds like:
1) Everything I have done over the last 4 years was null and void.
2) I am still fat.
3) Everything I have felt about me being strong was only an illusion.
4) I look ridiculous.
5) I am totally kidding myself.
6) I'm a lost cause and will never reach my goals.
I went to bed in a total funk.
"Shock moments" aren't just for the ladies. We can sometimes tease the ladies about being so emotional about stuff like this but make no mistake, we guys get them too, we just hide it better. It hurts to know that you are not as far along as you imagined yourself to be.
HOWEVER.....
After I waking up, I still felt awful but.... my feelings don't "rule the roost"
Now for the FACTS:
Regardless as to how I look, the facts remain.
1) Long term successful weight loss is defined by the National Institute Of Health as "..as losing at least 10% of initial body weight and maintaining the loss for at least 1 y."
AND..
I have I have a high probability of keeping it off as defined again by the NIH.."Moreover, weight loss maintenance may get easier over time; after individuals have successfully maintained their weight loss for 2-5 y, the chance of longer-term success greatly increases"
FACT- I have lost 30% of my body weight total and have kept it off collectively since I started in 2008. These facts put me at the TOP 20% of those that have endeavored to change their lifestyles.
Click link here to fact check.. Both sources are authoritative, not opinion. The result of scientific trials and years of data collection.
SOURCE:
www.ncbi.nlm.nih.gov/pub
med/16002825
Abstract Long Form from American Journal of Clinical Nutrition
www.ajcn.org/content/82/
1/222S.long
2) I have shrunk from a 52 inch waist to a 38
3) I could barely jog a 1/4 mile when I started... finished my first marathon (26.2 miles) last September. An insanely small percentage of the US population EVER do that.
4) Overall, I feel much better and my fitness translates where it matters...real life. I can carry a tool bag up to the top of a conveyor system, going up 170 steps without passing out. BTW these are not steps to code either, they were made in the late 60's in an industrial setting where engineers didnt care that much for the guy that had to climb them.
5) MY goals are totally different now. I dream of finishing a Half Ironman, not perfecting my hot wing recipe. I live for different ideals, not just to please myself and my tastebuds. I love doing what i perceived impossible.
6) All that I have done, I have done under what many would perceive to be very difficult circumstances and have succeeded. The numbers don't lie.
So why did I post that brutally honest pic?
Because I want to lead by example.
You dont have to be perfect, just committed. The gym, the running path, the marathon, on the bike, in the swim, THIS is where ordinary people put extra-ordinary courage on display. It takes courage to look past your own perceived faults and put it all out there for the world to see. It took courage to transition from jogging at night where no one could see me to going wherever and whenever I wanted to. It took courage to swallow my anxiety and step up to the starting line of my first marathon knowing that anything can happen at that distance.
This is what separates me from a high percentage of the population that are satisfied so long as there is beer in the fridge and something good on TV.
It takes vision and courage to start with nothing but a disaster and forge that into something made of iron and it all starts in the inside first. What you are on the inside will come out and be visible to all someday.
I have my weaknesses for sure but overall I'm an ok guy with BIG dreams....
besides.. I have an advantage....
I have alot of practice being cool, when I get the physique I am looking for, look out!