10k, here I come!!!
Wednesday, March 28, 2012
So when I said "where I'm going" in the last blog title, this wasn't exactly what I meant! lol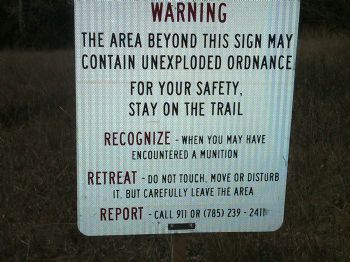 This is the Riverwalk, where we like to go because it's so pretty and its gravel, so it's not so hard on the legs. Well, it snakes through Ft. Riley. We never thought anything of it. Last time we were there, that sign was NOT there! lol They put a new fork in the path, but we continued on up the regular way (to the pot field lol) and about a 100 yards up, there was an even bigger sign saying unexploded ordinance, restricted, authorized personnel only. lol I should have taken a pic of that sign too. :P
BTW, am I the only one that noticed the military doesn't know how to spell Ordinance? lol
Anyway, we did a 5.04 mile walk!!!! That's right! 5 miles! I SO have this 10k! It's so real to me now, I can almost taste it! I could have gone further today, but my walking partner was hurting, so we called it a day. It was great though. I'm so excited!
Gotta eat now. Have a great day everyone!