Tuesday....
Tuesday, March 27, 2012
Early blog so I don't have much to talk about...will be a pretty busy day at work so I wanted to get my Sparkin done before I forget because once I go home, I am trying to "unplug" from the computer...
Another beautiful day here today so I will go walking again later at the college....should be nice! Next week, I am going to invite my singles group to go walk with me if they want...if not, oh well!!!
(side note: I have a co-worker that is skinny but she walks HARD...I swear, I can hear her coming down the hallway and KNOW it's her before she turns the corner...her knees are probably going to be messed up when she gets older....geesh)
Anyway, that is all for now...about to go get ready for a conference call...YAY!!! (insert sarcasm, LOL)
My "model" for today is Nicole Murphy, Eddie's ex-wife...I think she looks GREAT for having 5 kids, don't you?!!!!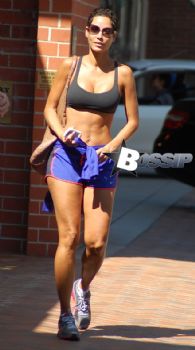 Get it girl!!!