Saturday, March 24, 2012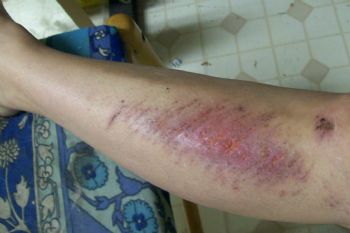 Doesn't it look ugly? I actually had a nurse look at it and she said it was healing nicely. The yellow stuff isn't infection, its a sign that its healing. Would you believe it still hurts daily? The nurse thought I fell on asphalt because the abrasion is so deep. For the last few days, I have been using a salve to help it heal and my cats and dog try to lick the salve. Yucky. I know you love me, but I know where your mouth has been. I started using a bandage again to protect it from the animals, but my skin looks gummy now like its getting infected.

This is close to the area I fell. Notice the layer of small gravel on top of the hard, dense ground. Its slippery like glass marbles on cement. The "soil" in Tucson is more like cement. Davis Monthan Air Force base is close by and they are able to store airplanes here because the ground is hard enough without using something to reinforce the ground like cement.