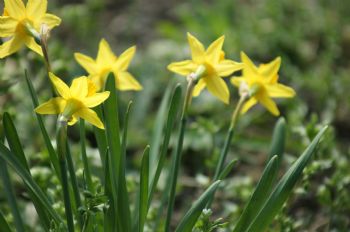 Sadly, these tiny jonquils have already faded. I took this photo on 3/22 and the next day they were sad. I did take a "sad" photo as well since it is all part of nature's process.
It was an "almost disappointing" week weight-wise. All last week my boss kept telling me that I appeared to be losing weight. Actually, I had been stuck at the exact same weight for over 2 months - 131.4. That's the way it always works for me. I'll stick then drop a pound or two then stick again. I think he's thinking I lost weight because I have since the beginning of last fall. But, it's getting to be non-sweater season in the plant so I wasn't wearing so many layers.
So, on Tuesday I do my morning weigh-in thinking that it's going to be the same number as always. Now, I haven't been getting in all of my walking at work lately due to some "stand-stills" and sitting in front of the computer for training. You can only know so much, right?
When I got on the scale it showed a one pound increase. As I stood there focusing the scale added another pound. What's with that? As the morning was progressing I knew exactly what had caused it. Salt. Sodium. I had eaten a boxed rice mix over the past 3 days and had a few chips over the weekend. That's all it takes. So, Thursday rolls around and I'm spending a lot of time running to the restroom. Since I'm the housekeeping supervisor I go in and out of restrooms all day anyway. This time, I'm using them.
You guessed it - the 2 pounds were gone by Friday morning and my fingers are now back to normal. My rings aren't choking them anymore.
Since I don't add salt to my food and rarely eat anything with high sodium content I really have an issue when I do. My fingers swell and get stiff and I can feel it in my abdomen. Two pounds doesn't sound like a lot, but, it really is.
It's Saturday now. I'm going to pace myself with house work because I really don't like cleaning house on my day off. I don't like cleaning house on a work day, either. But, someone's gotta do it. It's supposed to be rainy but I haven't seen any yet. I need to string up my grape vines and put a mini rose plant in a flower pot.