Friday, March 23, 2012
Sorry about the rotation, it won't let me fix it. Anyway, here it is: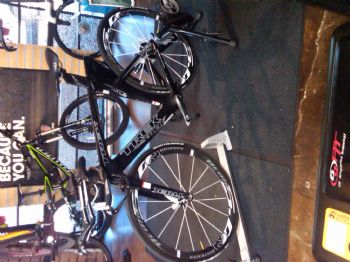 I got a great deal on it because it was one that someone had ordered and then never picked up. I had gone thru the whole process of ordering my own and it was going to take a month to come in. When I went in to size some of the components, they said they found that this bike was exactly the same as the one I was ordering except for a slight difference in the wheels. Getting this one saved me more than a third off what I would have been paying, plus I will be able to pick it up today! I'm looking forward to some trial rides this weekend!