Hey everyone,
I have been so super busy over my Spring Break, it's ridiculous. I've had tons of math review to do along with studying for my midterm tomorrow, and I've been plugging along with my Leadership as an Art class. I wasn't so sure about that class in the beginning of this semester, but it's turned out to be my favorite so far. It's one of those soft skill classes, but honestly, as an IT major and a shy chick, I could definitely use some help in that area. We get to do a LOT of interesting reading, and we've had to watch three movies over the semester: 12 O'Clock High, Remember the Titans, and Hotel Rwanda. So, with any luck, I should be able to conquer the world at the end of the semester with my awesome leadership skills! Or at least I won't get stuck doing all the work in my group projects any more. Either way. :)
I've been spending almost all my spare time in the park, trying to get a tan. I've managed to get a bit burnt up top, but my legs are still radioactively white. Here's some pictures of my awesome kitty Maya, Katie, and myself: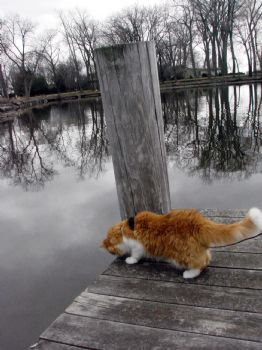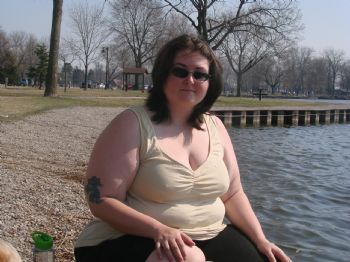 (I can't wait until my butt shrinks a little-eee! This will be one of those motivational pictures 50lbs from now :D)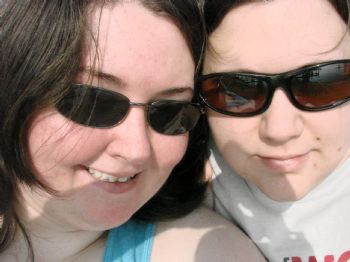 (I'm on the left, Katie's on the right)
I'm a little disappointed about my first weigh in.I used the old fashioned scale at my school's gym, which read me at 327. I was a little freaked out by that, because I was 335 at my Dr's appointment the week before that. I mean, I'm more than pleased to be losing weight, but losing 8 lbs in a week sounds a little unhealthy.
I talked to the fitness instructor, and that thing is notorious for weighing light. However, thankfully, she has a digital in the storage closet. I weighed in on that this week and the last, and I'm at 332 this week, which is three lbs less than my weight last week. I guess my lesson from this is to always use the same scale.
The fitness instructor at my school is so nice! She ran me through all the machines and showed me the correct settings, so I can work out properly. She even created a cardio circuit routine for me to do 2-3 times a week, and it'll help me get a little more oomph out of my work outs. I only had time to do it once the week she made it or me, but I've done it two times this week so far, and I'm going back tomorrow.
I'm pretty excited. I can feel my body changing just from all the work I've done in the last month. I feel more muscle in my arms, and my pants are loose. I'm actually super excited to measure myself on the 3rd to see how my body has changed.
I've noticed that a lot of the yoga poses I do are getting easier-I can switch between upward and downward dog and go to plank without stopping or using modifications most of the time-the only one I have trouble with is plank-my hips just do NOT want to lift off the floor. LOL
Hope everyone is having just as nice weather as we're having here-Wisconsin is not known for it's pleasant March's. :D