Tuesday, March 20, 2012
The note sent via text message read:
"We are kidnapping Sookie. Do not attempt to contact the police if you want to see her alive. You will be contacted with further instructions."
The text message included a picture of Sookie: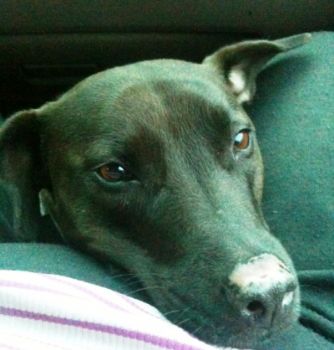 This whole thing was a joke, obviously. I stopped by my best friend's house earlier and her dog jumped in the car to say hi to me. I have her sister so I'm her favorite Aunt. She didn't want to get out of the car when were leaving so I sent the kidnapping text to my friend. My husband wasn't paying attention. She looks just like her sister (picture at end), so my husband thought it was our dog even though our dog wasn't in the car when we left our house. We pulled out of the driveway and were half way down the road before I pointed out to my husband that we still had Tina's dog in our car. For a split second I thought he was going to get mad at me for "wasting" his time going back. Instead he had to pull the car over because we were both laughing so hard.
We took Sookie back even though she didn't want to get out of the car. We all got a great laugh out of the joke. It was a very necessary moment of laughter for all of us. And of course I got into big trouble with Sookie's sister for coming home smelling like her and not having her with me.
This is a picture of Abbi. You can see why my husband go the two mixed up.