WARM!!! Salad in a jar!
Monday, March 19, 2012
I broke down. I had McPuke's three times this week. oops. that's 2 months gone. Oh well. I'm not beating myself up. But my resolve has renewed.
I have discovered salad in a jar (thanks Pinterest!) and I've bookmarked 2 websites. You can do lots with a jar ... including the not so good stuff for you lol.
Look into it. Here is a picture of my salad today. I kept my dressing separate though since I like to add it just at the time of eating.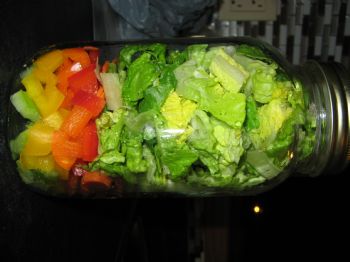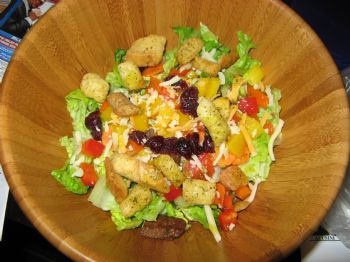 This was my Sunday night salad. I have this lovely new bamboo bowl and my salad is sooo appetizing in it!
And today was BLINKING warm! 20C shorts weather! It may have been warmer around 3:30 when I was outside on bus duty. Sometimes town temps are warmer than the recorded temp which is usually in the country somewhere.
I went for a 15 min walk after supper! yay me!
OK back to the LIVE meeting. (multi tasking tonight!)
Links:
#1 -
www.bigredkitchen.com/20
11/08/how-to-make-mason-ja
r-meals-part-2.html
#2 -
www.bystephanielynn.com/
2011/07/50-different-foods
-you-can-put-in-jar.html?u
tm_source=feedburner&utm_m
edium=feed&utm_campaign=Fe
ed%3A+UnderTheTableAndDrea
ming+%28Under+The+Table+and+Dreaming%29
#3 -
www.salad-in-a-jar.com/s
kinny-secrets/salad-in-a-jar