Saturday, March 17, 2012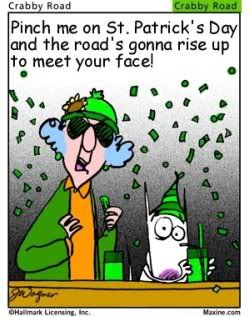 and to celebrate St Patty's Day
A little Irish Dancing
3rd Rock from the Sun--Riverdance--very funny
www.youtube.com/watch?v=
kXrsxgc5fUQ
Looks like it's going to be a nice day in my area. Hope yours looks good too.
I plan on a nice long walk. and some Zumba.
Then I'm off to get some seeds and start some herbs on my windowsill.
I Read some encouraging news this morning
(from the article)
SOME HERBS, SUPPLEMENTS MAY TREAT HYPERTENSION
www.msnbc.msn.com/id/444
57899/ns/health-heart_health/
Diet changes, the researchers concluded, are the best nondrug way to treat high blood pressure. ...."By far, the most studied and the most efficacious is the low-sodium DASH diet," Woolf said. The DASH (Dietary Approaches to Stop Hypertension) plan includes lowering sodium intake and eating whole grains, fruits, vegetables and low-fat dairy products. ...The researchers looked at studies of nine dietary supplements, including garlic, calcium, vitamin D, fish oil and soy protein. The evidence was strongest, Woolf said, for the effectiveness of potassium and coenzyme Q10 supplements on lowering blood pressure.
I wish people would take on a holistic approach to all health issues, instead of running to pills as THE solution to everything.