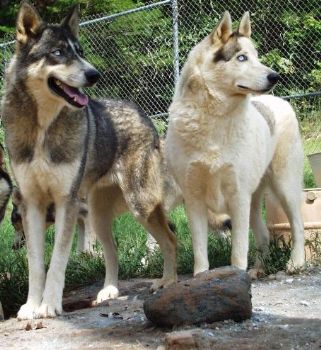 Two Wolves - A Cherokee Parable
An old Cherokee chief was teaching his grandson about life...
"A fight is going on inside me," he said to the boy.
"It is a terrible fight and it is between two wolves."
"One is evil - he is anger, envy, sorrow, regret, greed, arrogance, self-pity, guilt, resentment, inferiority, lies, false pride, superiority, self-doubt, and ego."
"The other is good - he is joy, peace, love, hope, serenity, humility, kindness, benevolence, empathy, generosity, truth, compassion, and faith."
"This same fight is going on inside you - and inside every other person, too."
The grandson thought about it for a minute and then asked his grandfather,
"Which wolf will win?"
The old chief simply replied,
"The one you feed."
Author Unknown
________________________
How well I am acquainted with these two wolves! I have shared my food with them both.
Lester Sumrall ended his TV program each week with these words: Feed your faith and starve your doubts to death.
When my lightening fast mind finally understood and accepted the power God ascribed to my WILL, my world was turned completely upside down. I am NOT at the mercy of those bigger and stronger than me. I have a covenant with Almighty God! I appeal to Him for the final say over all my circumstance. The "powers that be" on the earth must bow their knee to the name of Jesus over my life.
I only must remember His ways are higher than my ways. When I make my choices, His word and His ways must weigh more heavily in the decision than what my natural mind can comprehend.
I imagine a holy hush as all of heaven leans over the balcony waiting to see which direction we will take when evil presents itself. He loves when we believe Him. It rolls out the red carpet and invites Him to show Himself mighty on our behalf.
My "white wolf" is getting stronger everyday. I know this because a coworker was sharing her frustration this week. The picture she painted was growing increasingly dark. I heard myself cut her off saying "I don't allow myself to think those thoughts."
And "Yes", it is just that simple!
Along the same lines, the motorist who rear ended me had no insurance. And we carry only what is required, so we will be out-of-pocket for repairs. I told my husband what was stolen from us through the back door, God would restore through the front door. I am looking for increase!!!