Friday, March 16, 2012
On March 11 2012, we had Emily christened, and what a day it was - not only because it was so early (with the clocks being changed), but also because it was such a special day to be sharing with family and friends.
Emily was born Nov. 28 2011 (she wasn't due until Jan 04 2012), but she was in a hurry to greet the world, and she has been thriving since, with not many blips in the road (I.V antibiotics and fluids for 48 hours after she was born; then dealing with jaundice), but other then that she has just been doing so well!!!
This is Emily on March 10 in her new dress I bought her, I think she looked so beautiful and adorable in it, and I can't say how thankful I am that she is a girl and not a "dumb boy" who I can't buy dresses for :)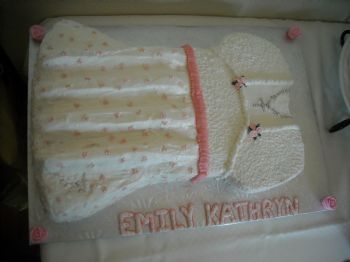 This is the Christening cake I made and decorated - it was a pink lemonade cake with pink lemonade curd, and a vanilla buttercream. This was my first ever sculpted/filled/decorated cake I have ever done (and I did it free handed). It took hours to finish, but I am fairly happy with it - minus the front corner, that got damaged on delivery. I guess also the cake was good since Jen ate 3 pieces (the day of the christening, and she HATES cake and icing). I also made 50 cupcakes (24 vanilla buttercream with a confetti cake; and 25 cherry buttercream with key lime cake)
The following pictures are from the church: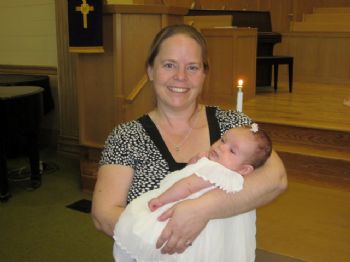 Mommy and Emily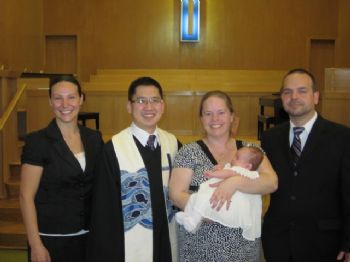 Mommy, Emily, Auntie Leigh, Uncle Rob and the minister (these are her godparents)
Emily after entertaining everyone for the day :)