Wednesday, March 14, 2012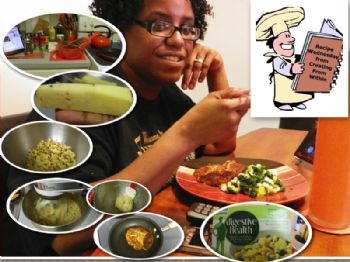 TODAY'S RECIPE: English Cheddar Chickpea Patties
This was a great lunch for me! I am a huge fan of the chickpea, or as it's properly known: The Garbanzo Bean! It's full of protein, making it a valued staple for vegetarians. I put a spin on the idea of making it into a patty because I wanted to enjoy my favorite Trader Joe's cheese with it.
As you see in my second bubble, I used English Cheddar Cheese with caramelized onions. It's so good that it should be illegal. You can find it at any Trader Joe's and it's not expensive at all. Whenever I want to treat myself to cheese, this one is the shizzniz!
Not a lot was added to this dish. There were probably more items added to the Green Giant Digestive Health veggies I ate than the patty itself. The recipe made four nice sized patties and they taste great. The cheese added gives the edges a nice crisp that really makes the taste. You have to cook on low though. If you cook too high, it will definitely burn and you don't want the taste of burned cheese to your meal.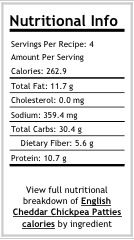 As you see, it's not a bad deal and you are getting a great source of fiber and protein. I also love that the sodium is low- one of my focuses for blood pressure control. I can tell you all that the chickpeas/garbanzo beans are like tofu. You add whatever spices you like and it takes on the taste.
Try this recipe, you can find it on www.sparkpeople.com and look under their recipe tab. You will find so many! If you'd like to receive a copy of the recipe, please click on this link: http://recipes.sparkpeople.com
/recipe-detail.asp?recipe=
2034618 I hope you try it and see just how wonderful it is, whether you like vegetarian meals or not. I know you won't regret it!
Be Happy❤Be Healthy!