My Dressing Room Experience
Monday, March 12, 2012
I noticed that after I had baby#2 I wasn't ashamed of how my body looked. Maybe it was because I had worked out through it. Anywho, I went to the store the other day to try on clothes to see what size I current wear and how far I am from my goal size. You see I gave away just about all of my clothes to force myself to buy new clothes when I reach my goal. It works out because I need summer clothes for my cruise in May anyway.
At this point in my life, I'm happy wearing a size 8 or 10 but preferably an 8. So when I went to the store I only picked up those sizes. Well I'm happy to report that both sizes "fit". I do have a muffin top so that is what I'm working on. I'm about 20lbs from goal so I'm confident that I will be a solid 8 in most clothes and will probably wear a 10 in somethings. I took a few photos while in the dressing room. I think these are the size 8 jeans. I didn't purchase them but I did purchase a size 10 skort.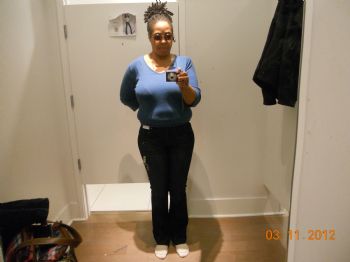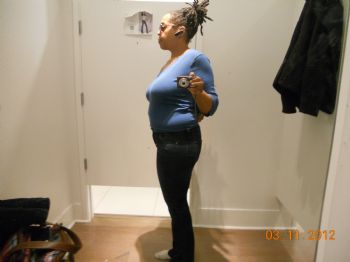 As you see my biggest problem area is that darn midsection.
I'm siked that my Jillian Michaels, gym and walks outside are paying off. Yes I still have a ways to go but I'm proud of where I am now. I didn't leave the dressing room depressed at all. I left more motivated to continue my healthy eating and working out.