For those of you who have missed me prattling incessantly about the Wild Rover series... count yourself blessed.

But really, here's the scoop:
3 races on consecutive weekends in 3 towns in the Merrimack Valley (MA). They are all sponsored by pubs and coordinated into a really great series.
Sunday, February 26th, 2012 - Frozen Shamrock 3 Miler in Haverhill, MA
Time: 38:27.2
Pace: 12:49
Place: 856/905
Age Place: 65/67
So February in New England always calls for snow and cold. Except this winter where we have had very little of either. So spoiled little me was less than thrilled that it was going to be chilly (30s) and WINDY for this race. I knew it was along the Merrimack River, so the wind would be brutal (it was), and I dressed for it. That's about the only thing I did right to prepare.
The race was at 1 (NOT my favorite time, for sure) but I was so nervous I barely ate. Mistake #1. A bowl of cheerios at 9am does not make for a good race at 1. But that's ok.
I showed up and got my packet and t-shirt - a REALLY nice green long sleeve tech. The "big race" ambiance was all new to me so I tried to soak it all in and ignore the fact that my legs felt like lead. Nerves really got the better of me here.
We started and while I certainly did better at keeping my pace down than my LAST race, I was ill prepared for the fact that at 1/2-mile there is a hill. A hill that is 1/2 mile long. Wow. The hill really sapped the little energy I had, sadly. Despite that, mile 1 split was 12:01, which is fairly fast for me.
Mile 2 was downhill and I let gravity take me. By the time I got to the bottom of the hill my ankles were less than pleased. I was feeling awful and wondering if I'd made a mistake signing up for these races. I reached the 2 mile marker at 24:49 (12:48 for that mile).
Mile 3 was through downtown and I was just done. I didn't want to be there any more. I knew my friends were waiting at the finish line and I'd be able to go get food, though, so I pulled through to make my final time 38:27.
At the finish line we got this nifty little prize: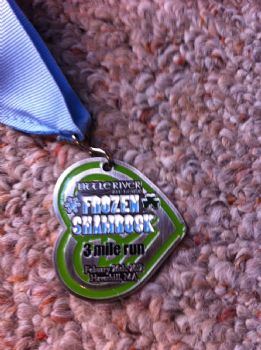 Sunday, March 4th, 2012 - Claddagh Pub 4 Miler - Lawrence, MA
Time: 52:00.4
Pace: 13:01
Place: 882/926
Age Place: 143/151
No wind! Yay! It was about 40 degrees, and sunny which made for a nice run day. Shirts are long sleeved and yellow this time. (Night running, maybe?) Oh, and did I mention I'm getting MEDIUMS? That made me feel so good - this time last year they would have been XLs.
This was a MUCH better race than the week before. Knowing what I was getting into, I felt much better. I ate better, the race was earlier (11 instead of 1) and I was ready for "The Hill".
This race holds a bit of fear for runners around here because it has at mile 2 what many runners around here dub the "worst hill in road racing anywhere".

But I knew it was coming, knew where it was and was determined that if I had to walk it I would. No big deal.
Mile 1 was fairly easy. The start was flat, and went through some main roads in Lawrence before turning towards neighborhoods. There were people out cheering (missing from the first race due I'm sure to the wind) and all in all I felt good. I had no one waiting at the finish this time which lent a certain "training run" feel to it which I really liked. I didn't have to worry about anyone but myself.
This was also the first race I did without my Garmin, and I think I'm in love with the idea. Much less stress! They didn't have a clock at mile 1, so no splits but I wasn't worried.
Mile 2 started and I knew it was coming. I could see the hill from the distance. The trick here is that there's a long incline and just when you reach what appears to be the top you take a turn to the REAL challenge. I knew this, so I was determined to run the long slow part so that I could walk the worst if I needed to. And it worked. I walked a good chunk of the bad hill, was thrilled to see water at the top (note: water volunteers are the best people EVER) and hit mile 2 at 27:05. I was fairly happy with this considering that I knew the next chunk was downhill.
Mile 3 was indeed all downhill and I had learned a bit from the prior week. I still let gravity play, but kept my strides shorter and really saved my ankles. I ran this entire mile with no walk break, which I was pleased with. And I loved the folks on the sidelines! They just made me smile.
Mile 4 was back to flats and while there was a clock at the start of mile 4 I don't recall what it said. All I knew was I was feeling good and was going to take a short walk break (I did, for about a minute) and run the rest. There was a point in there I really wanted to walk but I knew I didn't NEED to. So I came around the pub and turned towards the finish. And turned the sprint on.
I was feeling great and I wanted to sneak in under 52 minutes. Well, those .4 seconds kept me from being UNDER, but you know I was really pleased with 52 minutes. That had been my goal time and meeting it made me happy. And I felt fantastic! None of the miserable "I wish this were over" from the first run. I even stuck around and hung with a coworker and his friends for a bit and just enjoyed the ambiance.
This was our trinket this race:
Sunday, March 1th, 2012 - Hynes Pub 5 Miler - Lowell, MA
Time: 1:00:59.4
Pace: 12:12
Place: 841/917
Age Place: 146/160
Last race and it's in my town. Yippee! This was the 32nd year of this race and the turnout was awesome. There was so much energy in part due to the fact that it was sunny and 55 degrees. This is UNHEARD of weather around here this time of year. Not complaining.
So packet pick up was easy and I got yet another shirt - this one white and short sleeved. Friends were going to be at the finish but I told them not to hang for the whole race unless they wanted to so I got some time to wander. I like this, being able to wander and stretch with no worries for anyone else (have you picked up on the fact that I'm a worrier? LOL)
I knew the course, so I knew there were some rolling hills but nothing brutal like last week. What I didn't know was that they pushed back the start line from where I expected so we STARTED up hill! Oops! But I adjusted, no big deal.
The crowd was fun. Lowell is made up of a fairly large Irish contingent, and being so close to St. Patrick's day and with the Irish theme and all lots of people were decked out in their finest green, there was awesome music and the atmosphere was just FUN!
So Mile 1 was fairly uneventful. My legs ached, partially due to a rather tough run/strength training combo earlier in the week. But miles 1 and 2 almost always hurt so I just told myself to keep going. No big deal.
There were no splits being tracked this race, but they did have clocks and the end of mile 1 clock said 13:thirty-something, which is fairly slow. I had no idea how far back I had started (turns out about 40 seconds) but I knew I needed to pick it up.
Mile 2 was fun. There is a VERY old cemetery that runs through that area and it was neat to look at. The hills weren't too bad. The highway crossing was windy, but I enjoyed watching the frontrunners crossing at the OTHER highway crossing up a ways (not thinking about how fast they were. Yikes!)
Then my legs kicked in. This is why I love running distances. Mile 3 I started to feel REALLY good. There were great crowds holding signs and cheering, which was fun, and I started to find a good pace. I held this pace through 3 and 4 with barely a walk break at all. I walked close to the end of mile 4 to grab some water and figure out how close we were.
That's when I saw the clock at the end of mile 4. Again, not knowing my chip time the clock read 50:twenty-something. I nearly stopped to make sure I was reading it right. That was nearly 2 minutes off my time from the previous week! Now, I'd set myself a goal for this race of 65 minutes, but it was never going to take me 15 minutes to run that last mile! Woo-hoo!
So I booked it. I ran at a fast pace for me, still holding back enough to actually MAKE it there, and when I came around the corner and saw the finish line I just pushed it. That last mile felt FAST and the clock read 1:01:42 when I came through.
I cheered when I got my chip time of 1:00:59.4. I had beat my goal time by FOUR FULL MINUTES! I have never felt so awesome in my life! And my friends were there, ready with Gatorade and to cart me off and feed me carbs. :)
Oh, and here's the finisher's medal for this race: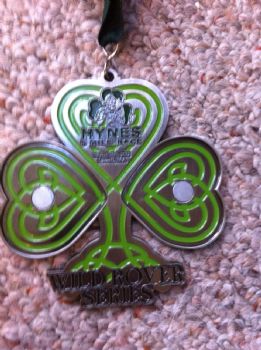 The really awesome thing aside from the sheer confidence building these races provided was the complete medal all put together:
Now who WOULDN'T want to run for that? :)
Really though I went from thinking I'd made a huge mistake during week 1 to being THRILLED with the whole experience by week 3. I had so much fun with this and will definitely do it again.
On to the Lake George Half Marathon in April!