Hi there. An unheard-of Saturday blog for your reading pleasure. :)
Yesterday, I had myself a little tantrum. Work, then life, then my own lack of coping skills led me to a) miss my scheduled workout, b) consume an unplanned emergency snack of Shredded Mini-Wheats (thankfully, they were the ones in the itty-bitty one-serving box), c) eat more than I should have for dinner (it was still reasonably healthy), and d) drink way, way, WAY too much last night.
If you've read one of my previous blogs in which I whined and complained about the calories in alcohol, and how it is the surest proof that life is unfair, you know that I determined tracking calories on the weekends really sucks the joy right out of me. I decided it made me angry, resentful, and unhappy, and was not worth the risk of me giving up altogether out of sheer spite (insert video of me shaking my fist at the sky and cursing the heavens above - if I had one, I'd include it, but I don't. Sorry.)
However, faced with the reality that my questionable weekend habits are most assuredly not sustainable, not healthy, and not helpful in reaching my . . . *cough* . . . goals, I spent a fair amount of time yesterday (while stuck at work) considering how I might get this situation under control without killing my resolve altogether. I pondered this question for quite some time, came up with a general game plan, and promptly threw it directly out the window once the time came to put said plan in action.
I'm not one to fall into the "since I had one bad day, I might as well be consistent. Bump it all, I give up" trap. Again . . . I would never actually say bump in real life, but you get the idea. Keeping it clean. Think of the children.
I am pretty comfortable being consistently inconsistent two (and a half) days a week.
Therein lies my problem.
I realized that I am not yet ready, willing, or able to give up my . . . er . . . weekend lifestyle. Yes, I am thirty years old and should know better, but evidently, I do not.
SO. Today, I woke up, still a bit addled, most certainly hung over, and thinking "Well . . . now what?"
I made some decisions. Then, despite feeling about as energetic as a three-toed-sloth on downers, I worked out. Like a mothertrucker. After I was done, I was absolutely HIGH on positivity.
See? A post-workout picture. Sweat and all. This is how far I am from having any shame anymore.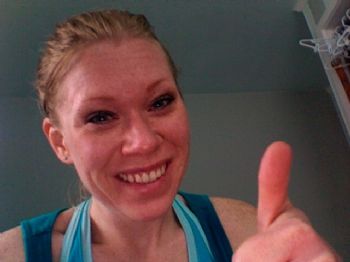 Notice that I am still wearing last night's makeup. Like the scarlet 'A.' The people at the mini-mart where I get my weekend morning (read: afternoon) coffee must think I am the dirtiest whore ever. Meh.
Anyway, back to my point.
I am hereby recognizing my continuing need to do better on the weekends, but I am ALSO recognizing that I am not willing to make myself utterly miserable. Misery comes pretty easily to me. I don't wish to go back there right now. Or, y'know, ever. So until I figure out the balance that must be established to prevent this, I have reached a compromise.
I choose to control what I am ready, able, and willing to control right now.
I'm not ready to track my weekend calories. Truth be told, I'm not worried about that food-wise because on a typical weekend day, I don't get crazy with the cheez-whiz.
I'm not ready to settle down and be a model citizen seven days a week.
I AM ready to be sure to drink all my water every.single.day, to log in to SparkPeople every day, to commit to working out on the weekends, and to be more conscious of ways I can improve gradually, without giving myself a serious case of culture shock.
And so that is what I will do.
Here's hoping you're better at this weekend thing than I am, but still having lots of good, clean, fun.
Or, bad, dirty fun.
(Clearly, we know which of those I prefer.)
*Slightly edited to remove funky symbols that apparently appear when I blog from my Mac. Sorry about that.