Got something very special in the mail today..

Saturday, March 10, 2012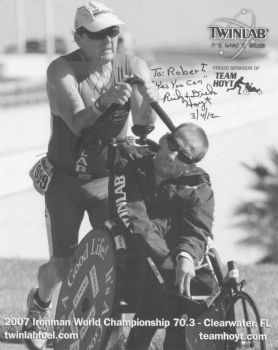 The first time I ever saw the video about Dick and Rick Hoyt, I cried like a baby. I was touched. I contacted them via their website and told them my story. Their message is simple.. "YES YOU CAN!"
Today, I got a personally signed picture that says simply:
"To Robert, Yes You Can"
-Dick and Rick Hoyt.
it was a simple message but in a world filled with fly by night fathers and men who cut and run at the first sign of trouble, Rick Hoyt is a HERO in every sense of the word and has laid down his life to give his son a better life and as a result, he has something deeper and richer than most of us mere mortal men can only imagine.
A man who has completed well over a thousand races including 6 Ironman triathlons, to hear him say to me YES YOU CAN means so much.
I am framing this and putting it in my gym.
YES I CAN.
Thank you Mr Hoyt.
-The pic is actually color but my scanner is dying so I did it in greyscale.
Their Story...
www.youtube.com/watch?v=
flRvsO8m_KI
This is their website...
www.teamhoyt.com/
BTW, as an added note, I have been doing much better with my foot. after weeks of stretching and treatment, I am becoming far more pain free. there is still some stiffness but each morning has been almost pain free since it seems like I had a breakthrough in stretching. IT seemed like my stretching wasn't accomplishing anything then POW, something gave way and it is like I am really on the road to recovery for real. After months of PF pain, that is a huge step.
I even dared to go on a treadmill run and crushed my mile run time. Last year my average mile time was 14:30 on a good day. This morning I did a mile in 12:05 without any huffing and puffing or pain, I felt awesome and like I had some real hope that I will get past it. Being able to run a short distance was like a ray of sun breaking through.
YES I CAN.