I've been in constant state of prayer today and this week.
And can I ask my dear SparkFriends to pray for Cathy, a close dear girlfriend & prayer partner's Mom. It's been a whirlwind of a week that started with an emerg visit one week ago. She's dieing of bone cancer. The doc called the family together to meet as I type this. She's in so much pain, and my Girlfriend is so shaken in her faith as Mom truly believed she was healed three months ago.
And I'm trying to keep it together here at work and not blubber all over the keyboard on my break, or while I work, or when I open my mouth to speak or answer the phone.
And this week, I've learned the hard way, that I NEED to relax and Breathe and slow down, maybe even Stop some of the treadmill of my life.
We were testing blood pressure machines for the Classic Loser (my boss' sponsorship for our city's version of 'The Biggest Loser') and we found that I had a whopper of a blood pressure level! I know I had a major stressful week, but my heart's been racing of and on for a good part of the week, and I'm overwhelmingly exhausted. I nearly fainted from my usual warm bath the other night. Wow. I've never been this "bent outta shape". Reality check...in the highest degree! Slow Down!
So I definitely need to stop pushing myself:
- to be the perfect Sparker, Case-study Follow-up, Mother, Wife, Employee or Friend;
- to understand that I'm lovable for WHO I am, not for WHAT I do.
- to stop and rest and wait on the Lord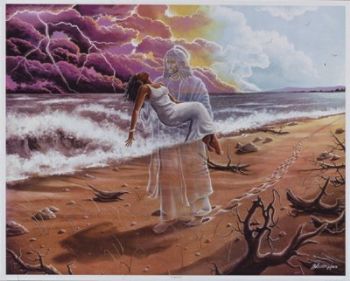 And I really need to leave IT ALL at the Foot of the Cross.
Thanks for your prayers everyone.