Thursday, March 08, 2012
Confession: I used to keep a bag of powdered sugar in my cabinet so I could mix up a quick "fix" of butter cream icing when I wanted to snack. Sugar has been my drug of choice pretty much all my life. It used to be the thing that made everything better. Not anymore.
Tonight, my snack is made up of fruits and veggies, and I'm topping it off with eight ounces of skim milk.
If I'm gonna give up my nasty sugar fix for something uber healthy that I'm not used to, I'm gonna make it as pretty and prissy as possible. I'm gonna make it fun.
Who needs a bowl full of butter cream icing when you have this? That's right. Skim milk in a wine glass, baby!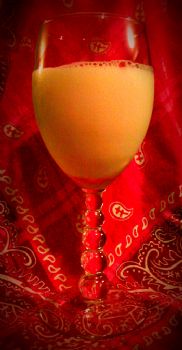 Whatever works, eh?