Hi Spark
Quick update!
SNOW, SNOW. SNOW...no running.... yeah don't wanna slip and fall bef my race;p
This week is GET MY DD enroll in our public school, b/c I am going to be in Asia over the summer. Gotta get it done now-ish!
As you know. I am gonna start gardening this year. However, I will only be here in SPRING and FALL.
so I am looking at WHAT to plant! ??????
and/or what can I plant , and just have my hubby water and I'll harvest in FALL
HOW Composting Relates to SP
-----------------
I started my compost in 2009, when I started SP.
(Well, I started SP and it Sparked my Composting, is more like it!)
VERY long Story Short!
Having lived in a place with REALY bad Soil condition.... I found Composting
When I researched COMPOSTING, I had no idea HOW GREEN it was ;p

IF you don't know the first thing about composting like me! It was WOW!
Recycle! Promotes Healthy Living! and Awesome for Garden ;p
So, I bought my bin and started ;p
GUESS.... WHAT!!!
what goes into the compost????

and

yeah!!! so if I am NOT eating my Fruits and Veggies...my compost bin is EMPTY!!
LOL....simple as that!
And it takes 1 year to make ;p
so that is HOW my COMPOST is my SP health Report card ;p
and another SURPISE it decreased my Trash but a LOT!!!!!
Because.....it takes
1. Organic waste (green Cooking scraps)
2. Egg shell and Egg cartons!!!!
3. Paper Products (that is not GLOSSY (takes longer) aka JUNK mail.
and Meat waste goes to my other composter (HUSKY)
so if you are thinking about composting ;p DO IT!
youtube and the internet has very good videos!!!
Thanks for reading ;p
You can as usual skip this rest of this... if you aren't interested ;p
COMPOSTING 101
-------------
AGAIN.... I am NOT an EXPERT....
I am just documenting how I did it ;p
WHAT IS COMPOST?
It is basically DECOMPOSED organic Matter.
It happens NATURALLY...
In nature,
Trees drop leaves in fall
Worms and mirco-organism breaks it down over winter
Leaves turns into "soil"
Trees Root recycle this and makes new GROWTH
That is MY UNDERSTANDING if I have to explain to my 8 yr old DD
1. GET A BIN and SHOVEL/FORK
I know there is a LOT of options out there.... really simple to complicated
Basically, you need OPEN bottom, Airation (holes) and a COVER
I just got one from LOWES it was $60-70
it was OK to put together....
2. LOCATION, LOCATION, LOCATION!!
It needs to be Semi-Permanent location.
It will be HEAVY, you don't want to move it around!
It may Stink....so you want to put it some what AWAY from the house.
My OOPIES :
If you rake leaves, make sure you can GET them there
Do you have Excesss to WATER!!!! (LOL I have to bring a pitcher each time)
This is my SETUP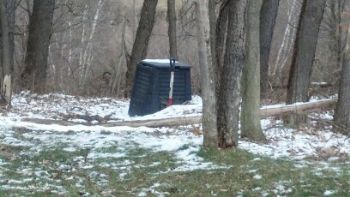 This is a closer look, UNDER the SNOW is all the leaves we raked on my AUTUMN FALL pics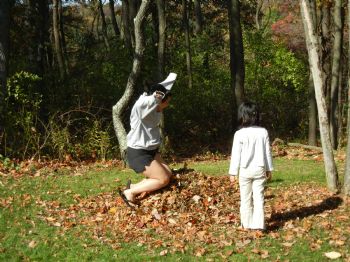 LOL
3. KITCHEN COMPOST
Now that you have your bin, you need a small container to keep your kitchen scraps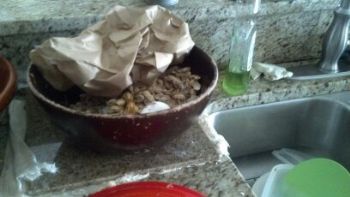 I just used an OLD WOODEN salad bowl.
If you worry about insects and flies...get one with cover....
we throw it into the compost almost daily so it not an issue
We get flies in summer REGARDLESS of kitchen compost (ARGH)
the only OOPIES:
is the WOODEN part... it's on it's 2nd year now... and some of the bottom is being eaten away by the material
and NOT that WATER tight
4. WHAT GOES INTO THE COMPOST
Compost is broken up into GREENS and BROWNS
* Kitchen "green" Scraps (GREEN)
This is any green organics from your kitchen! Spoiled freggies, disposed parts of freggies you don't eat, pits and cores ;p
* Egg Shell (MINERAL)
This is the only mineral the compost gets (calcium).
When I TURNED the compost daily, you can't see the egg shells
When I LASAGNA the compost, you can see the whole shells....so crush them here
* Paper Product (BROWN)
I only ever put egg cartons, newpaper, junk mail and paper bags.
Paper Towels, if and only if NO CONTACT with Meat or chemicals
lol only the plastic mailing bits are left of my junk mail envelops
I did a MILK carton before (horizon one) and since it was "glossy" it took a WHILE!
* Garden foilage (GREEN)
Garden Clipping, and Weeds (careful, if you put seeds in...well you know)
Grass.....(I have heard yes/no on this....) I don't
Flowers (bought or grown)
* DRIED Leaves (BROWN)
This is the MAJOR part of the compost. And when I run out of leaves...I go with paper
5.HOW TO START A COMPOST
Again there is so many formulas out there.
This is HOW I did it!
When you FIRST start.... you DON'T have the micro-organism and worm
so that is why it will take about a YEAR to make,
unless you TURN it everyday and add water ;p
I heard you can get it in 6 MONTHS!
so to start, your material will be at the BOTTOM of the bin (LONG SHOVEL/FORK)
my formula is:
4 BROWN: 1 GREEN...and water as needed
so for every bowl of kitchen scraps, I dump in 4 bowls of "leaves"
it's not PRECISE! I EYEBALL it!
I STARTED with a SMALL batch! added enough water to DAM it
and TURNED like a maniac for a few week.
I added daily batches, water as needed and TURNED
STEAM was coming out... it's pretty cool!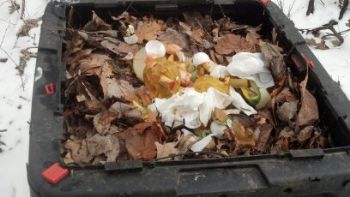 Mines is OLD so my NEW is at the TOP of the Pile
AFTER 6 months ;p it was summer
it was HOT!
so I started the LASAGNA method.
1 Green,
4 Brown, Dampen,
1 Green.
4 Brown ,Dampen (repeat)
Like a lasagna and pretty MUCH IGNORE it!
6. WHAT IS HAPPENING (the Chemstry)
well, if I am to explain to my 8 yr old DD
The Brown provides the "environment" or HOME for the benefical critters doing the work
The Water is also for a better "environment"
The Green is their FOOD
so it's a balance to keep everything HAPPY
so if your compost is too
DRY; add some water and kitchen scraps
WET: add more BROWN
that's it, the long and short of it
Why Layers?
In the begining with I was TURNING, I wasn't getting the layers, old and new was all mixed up, because I wanted to invite the critters in ;p
once established the critter stay at the bottom and "decomposes"/eat/do magic on my new/old layer....
once the nutrition is gone for THEM, the critter move up to my NEWER layer, because I am consistantly making new layers.
The bottom layer that is "DONE" is MY compost
They can't do anything more to it...but my PLANTS can ;p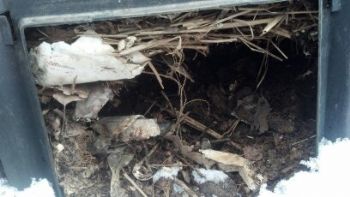 See the GAPPING hole, that is where my COMPOST was
and the straw looking stuff..... not done yet...it's the intermediate compost.
7. RESULTS
After my first Year.... I was only able to get a FREEZER LARGE ziplock bag full!
My bin was full, however
I gave it to my MIL to use in her house plants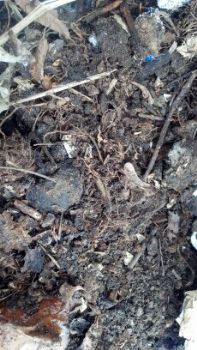 2nd year!!!!! I got a ton I can layer 2 raise bed 3x3 (as shown with the gap)
I don't water it anymore, b/c the lid is broke and it gets rained on
LOL that was long
but I hope it made sense
so worth it...you should do it if you are even thinking about it
spark on